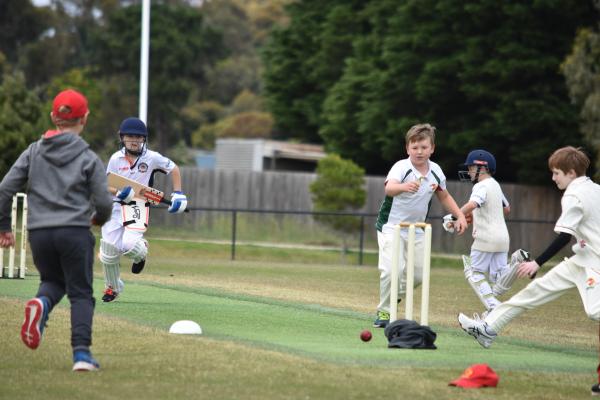 By Luke Voogt
Dramatic scenes unfolded on Saturday morning in Leopold as an under 13s game ended in a thrilling tie.
"It was very exciting," said Leopold Horne under 13s coach Sean Boland.
"Ties are very, very rare."
Leopold made 6/98 off 30 overs batting first against Collendina Ellwood.
With Collendina only three wickets down and needing just a handful of runs in the final over, Leopold brought on leg spinner Tom Kneeshaw.
"He was landing them in the right spots and he did really well," Boland said.
"We put him on in the last over just to take the pace off."
The choice worked with batsmen Augie Graham and Nate Bush managing just a few runs in the first five balls.
With two needed off the last delivery, Augie blocked and ran as Nate Bush took off from the other end.
Tom slapped the ball towards the non-striker's end, missing the stumps by just centimetres as Augie completed the single for a tie.
Collendina parent Craig Cook said the boys "were pretty excited just to get the tie" as they were chasing a "mid-range score" for that age group.
"They thought they were destined for a loss so they were pretty happy when they got out of it with a draw," he said.
"It was played in really good spirits. They were a really good team to play against and it seemed like the kids had a good time."
In the Geelong Cricket Association division one firsts, South Barwon, North Geelong, Lara, Highton and Newtown-Chilwell scored wins on Saturday.
Angus Boyd made 109 in Newtown-Chilwell's away win against Grovedale, while Sean O'Neill made 102 as East Belmont lost at home to North Geelong.
With the ball East Belmont's Jack Jenkins took 4/41, North Geelong's Tom Mathieson took 4/31, South Barwon's Kyle Bienefelt took 4/19, Highton's Nathan McCoach took 4/21 and Newtown-Chilwell's Dylan Hodge took 4/24.
North Geelong leads the division with three wins from three games, followed by Newtown-Chilwell and Murgheboluc on two games each.
In the division one seconds Grovedale, Highton and East Belmont remain undefeated after three games.