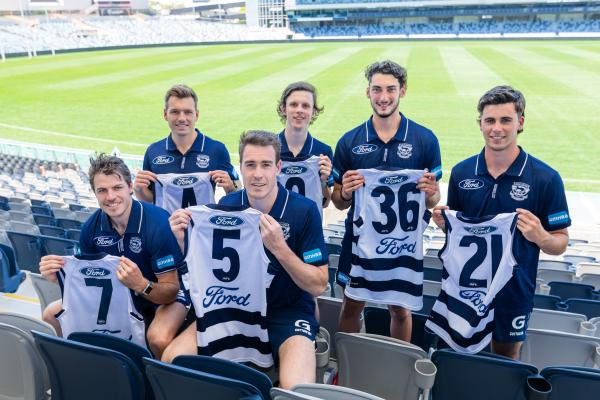 By Luke Voogt
Jeremy Cameron vowed to chase his best season yet as he took up the number once belonging to the man known in Geelong as 'God'.
The star full forward will don number 5 in 2021, worn by the greatest Cats player to hold that position – Gary Ablett Senior – and the legendary Graham 'Polly' Farmer.
"It's a great number to be running out there in," the 27-year-old said on Monday.
"But I know there's a lot of hard work between now and then in front of me, and I'm looking forward to that more than anything to be honest.
"I want to have my best season I've ever had."
The former Giant and 2019 Coleman Medallist has kicked 427 goals in his 171-game AFL career.
But he said he wanted to hit the "restart button" and prove himself anew at Geelong.
"I don't want to set low goals, I want to set a high standard and train really hard over the summer, and I've already started that probably about six weeks ago.
"I only had my first run today with the young guys but it was great to get to know them."
Cameron expected more intense scrutiny in AFL heartland than in Sydney, but he said the rewards were greater in Victoria too.
He looked forward to being closer to family in regional Victoria.
An avid golfer and fisherman, Cameron has yet to buy a house in Geelong but revealed he was looking for a place close to one of the city's many boat ramps.
"I'm sure after Christmas that will happen quickly and then [Geelong] will really start to feel like home," he said.
Number 4, most recently worn by the son of 'God', Gary Ablett Junior, will go to Shaun Higgins, the man the Cats are tipping to replace him on the forward flank.
The former Bulldog and Kangaroo grew up in Geelong and was thrilled to live close to family and friends again.
He described walking onto Kardinia Park as "surreal", saying the ground looked very different to when he had watched the Cats growing up as a "mad Geelong supporter".
Higgins and wife Heidi have twins on the way, while his sister Danielle Orr is playing in the Cats women's side.
"She actually didn't recognise me [at Kardinia Park on Saturday] – I think it was the colours – she walked straight past me," he said.
New midfielder Isaac Smith will wear number 7, most recently belonging to champion defender Harry Taylor.
"There probably won't be as many defensive efforts in the number 7 anymore," the 31-year-old laughed.
The former Hawk said he was surprised at how "friendly" Geelong locals were toward him after the move, given the clubs' fierce modern rivalry.
"I can't say Geelong people were too friendly to me over the last 10 years," he said.
The Cats' top draft Max Holmes will wear number 9, while fellow draftees Nick Stevens and Shannon Neale have claimed 21 and 33.
Holmes spent a sleepless night "tossing and turning" after the excitement of being drafted, he told Cats media.
The 2019 Australian under-18 400m hurdles champion hoped to use his running ability on the wing for the Cats.
"I've got a pretty decent kick on me," he said.
"I like to kick it long and hit a target, so hopefully I can break the lines and break open the game like that."
Category B rookie and former basketballer Paul Tsapatolis will don number 36.