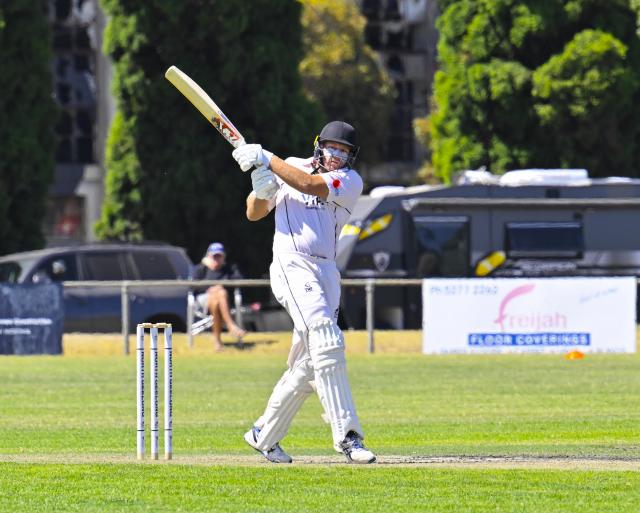 By Justin Flynn
Two-day cricket resumed for the Geelong Cricket Association after an almost four-year hiatus and North Geelong wasted no time in piling on the runs.
The reigning premiers were at their brutal best, racking up 4/376 against last season's runners-up East Belmont at Osborne Park.
Openers Ned Cooper and Sam Hall put on 98 for the first wicket before Hall fell for a 52-ball 66 that included 10 fours and a six.
"I didn't contribute too much to that," Cooper said of the opening stand.
"I just watched it from the other end, trying to get him (Hall) on strike and do his thing and he was in that mood where he gets going and he's pretty hard to stop.
"It's the best seat in the ground, the other end when he's going."
Philip Visser then made 58 from 70 balls and Cooper departed with the score on 215 for a patient 81 from 155 deliveries.
"I hit a full toss straight to cover so it wasn't a great way to go out," Cooper said.
Sixteen-year-old Liam Biddiscombe then strode to the crease after finding out he was making his 1st XI debut on the day of the game when all-rounder Dale Kerr failed a fitness test with a sore calf.
"I think he's made three scores over 40 in the twos and maybe a couple of fifties and his bowling has really improved with his offies," Cooper said.
"He started pretty slow, but in the end he probably made 50 off 70 balls in the back end of his innings, so it was a really impressive debut."
Biddiscombe made a polished 51 not out and shared an unbroken 157-run stand with Andrew Fergusson, who tore the attack apart, finishing on 102 from only 89 deliveries.
"He (Fergusson) was incredible," Cooper said.
"He just went out there from the get go at a run a ball. He was pretty stoked. He's getting to the back end of his career and he was pretty happy."
With no compulsory closure in GCA, Cooper said it was likely skipper Tom Mathieson would declare immediately, especially on such a flat deck.
"We've got to bowl them out so the way the rules are now, there's no real need to post any more runs," he said.
"We'll need the full 80 or 90 overs to try and get 10 wickets. They're a good batting side. If they chase that down, then we don't deserve to win the game. So I think we'll just give ourselves the best chance to get those 10 wickets.
"It's the best wicket I've played on in Geelong, definitely at North Geelong. There wasn't a whole lot left for the bowlers."
NEWTOWN & CHILWELL quick Archie Bain took 6/27 to give his side a chance against Grovedale. Grovedale was all out for 230 thanks to 89 from run machine Michael McNeel and 58 from Jack Wrigglesworth.
HIGHTON'S English import Greg Willows made his first century for the club with a delightful 126 from 146 balls against Lara. The Heat made 9/268 with Blake Ash snaring 5/78 for Lara.
SOUTH BARWON was dismissed for 256 against St Joseph's. In trouble at 4/51, it was the middle and lower order to get South Barwon out of trouble with Sam Ellis (47), Jasper George (42) and Mathew Dawson (41) among the runs. Tom Smith, Brandon Purcell and Ryan Simmonds each picked up three wickets for Joeys.