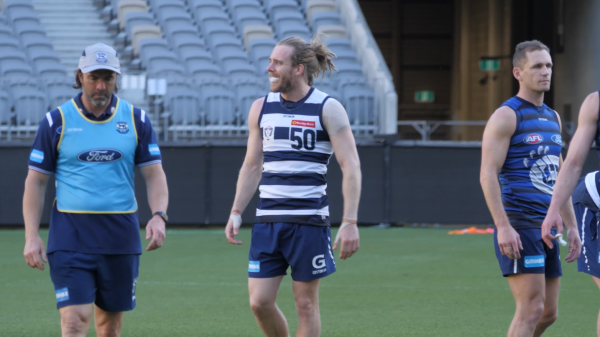 By Luke Voogt
Geelong Cats will focus on getting "the next couple of months right" as they hope to bounce back from an 83-point preliminary final thrashing, according to coach Chris Scott.
"All that will matter is what happens over the next four to six months in preparation for next year," he told a press conference after last Friday's loss to the Demons.
"While it hurts at the moment the easy response is to say we're going to fight and work really hard as quickly as we can.
"But I think that would be missing the fact that the last two years have been really hard on people in the game.
"I think our players deserve a break and what they will get this time is enough time to regroup, get the requisite amount of work in and give ourselves a chance [next year]."
Scott cited Geelong's 2011 premiership after a similar preliminary final loss in 2010.
"We've fallen short and it's a bitter pill to swallow, but our club has over a long period of time found a way to recover from difficult situations," he said.
"We're in that situation again where we've got a choice to make: we can roll over or we can take the time we need to regroup.
"That was our challenge at the end of 2010, and I suspect it's still our challenge now."
Reports emerged this week, which the Cats have yet to confirm, that six Geelong players were ill in leading into the prelim.
"There's a few things that I won't speak about tonight that will become clearer over the next few weeks, but suffice to say, I'm proud of the way our guys endured and we just completely ran out of steam by tonight," Scott said.
Geelong Cats were also without injured All-Australian backman Tom Stewart (foot) and midfielder Brandan Parfitt (hamstring), while Patrick Dangerfield played through the finals with a fractured finger.
"Over last … five or six weeks it feels like we've been plugging gaps a little bit," Scott said.
"When you get to this stage of the year you really need to be hot and … we weren't quite good enough to get ourselves in a position where we could play our best footy and we came up against a team who was the opposite."
The Cats face scrutiny over their ageing list and decision last year to trade a three first-round draft picks to secure Jeremy Cameron.
The Cats fielded 12 players aged 30 or over against the Demons, who outmatched them in speed and pressure last Friday.
But Scott described such criticisms as "superficial", saying the club needed to "dig deep" analysing areas to improve.
"I think that's always going to be an observation … that when you get beaten, you look old and when you win, it's because of your experience," he said.
"I don't think either are necessarily true."
Scott praised the club ethos during his time coaching and before.
"We do everything we can to look players in the eye at the start of every year and say, 'we're going to give you the best chance'," he said.
"I can say with some confidence that what we have done in the past is what we will do in the future: make good decisions, work together, stick together, support each other, and give our club every chance possible to succeed shorter and long term."