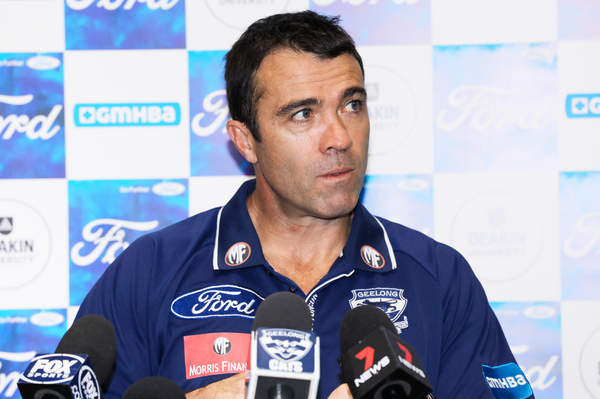 By Natalee Kerr
Geelong Coach Chris Scott has "forensically analysed" his team's "poor" record post-bye ahead of their mid-season break this weekend.
"We've acknowledged that it has been a little bit of an issue," Scott said.
"(But) we've tried to make it a theme this year that when things become an issue, we don't run away from it, we don't pretend it's not happening, we just face up to it."
Geelong has lost the game immediately following a bye during the past eight home-and-away seasons, but Scott suggested the Cats have been unlucky.
"The biggest thing is we've played good teams most of the time, that's the biggest takeaway," he said.
After the bye Geelong face another tough fortnight taking on two top-eight teams, Port Adelaide and Adelaide.
The Cats further cemented their top-of-the-ladder position with a 67-point thumping against Richmond last Friday night at the MCG.
While the Tigers looked to have the edge early on, Geelong's scoring accuracy proved the deciding factor.
From the second quarter Geelong booted 11 goals straight as Richmond failed to kick another until late in the third term.
"Even though we didn't pound the ball inside 50 as much as we would've liked, when we did go in we looked a lot more dangerous," Scott told the media after the game.
Scott described speedster Gary Rohan as a "crucial" element in the forward line.
"Our accuracy is good and has got us over the line in my view a couple of times this year. Gary Rohan's part of that, he's a beautiful kick," Scott said.
"He's done some things this year that I haven't seen on a footy field."
Geelong now hold an 11-1 record, sitting in tune with their 2011 form where they last won the premiership.
But the win was overshadowed by another controversial score review that denied Richmond's Jack Higgins a goal during the second quarter.
Multiple angles showed a clear goal, yet the score review deemed the ball hit the post.
The AFL admitted earlier this week it got the decision wrong, making it the third error conceded in the past fortnight.
Despite the recent backlash Scott said the current system is "better" than the previous one.
"Lets accept as a competition mistakes will happen. To think these things are going to be perfect is naïve," he said.
"Some people talk about the lack of accountability for umpires and footballers and they compare it to their nine to five job. Give me a break – these are some of the most accountable people in the country."