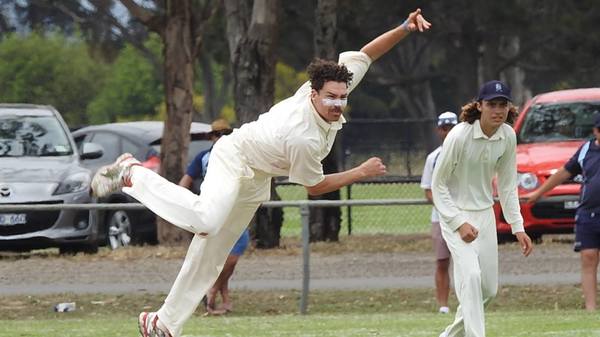 Local Cricket, by Jim Timberlake
Geelong Cricket Club was put to the sword by Footscray last Saturday, the visitors racking up an incredible 6/400 declared on the back of a brilliant 181 not-out by opener Ashley Armstrong.
The Cats' bowling attack struggled to have any impact early. Despite Brenton McDonald (3/104) toiling away from one end, Geelong simply couldn't take wickets at regular intervals.
Footscray declared with three overs remaining, which meant Mitch Reid and Eamonn Vines had to survive a tricky little period at the crease, which they accomplished with a minimum of fuss.
The pair will resume on Saturday with a mountain to climb but with a positive outlook that anything's possible.
Geelong Cricket Association features a top-of- the-table clash in division one in the final game before Christmas when Newtown & Chilwell hosts first-placed East Belmont.
The Two Blues have been in excellent form so far this season, and a fantastic win against Bell Post Hill last week proved their credentials.
Defending a measly 129 at Myers Reserve, opening bowlers Nick McGuane ( 5/27) and Jackson Davis (4/45) lead the team magnificently as it claimed their fifth win from six starts.
On the other hand, East Belmont suffered its first defeat of the season, going down to Lara in a game the Lions dominated early.
The Lions' bowlers completely outplayed their opponents early on day one, reducing Lara to 9/125. However, a fighting 103-run stand for the last wicket saw the Cats post 228.
In reply, East Belmont never looked in it, losing wickets consistently all day to be all out for just 165.
Newtown & Chilwell will know it got out of jail slightly last game and that East will welcome back some big-names missing last game but will be keen to show it can mix it with the best.
Selections: South Barwon v ST JOSEPHS, Lara v LEOPOLD, Newtown & Chilwell v EAST BELMONT, GEELONG CITY v Bell Post Hill, North Geelong v GROVEDALE.
In division two, Marshall enjoyed a morale-boosting win against reigning premier Bell Park last round but will need to back it up with an even better performance this game against top-placed Torquay.
The Bears set out to defend 236 against the strong Dragons batting line up, but with evergreen seamer Brad Greenwood (4/34) and Kal Dubbledam (3/20) in sublime form they never looked like losing as they surged to a commanding 95 run win.
If they can bring that form to this game there's no reason they can't achieve a similar result.
Selections in bold: ST PETERS v Thomson, Bell Park v HIGHTON, MURGHEBOLUC v Manifold Heights, Torquay v MARSHALL.
And in division three, Alexander Thomson has rocketed into first position on the ladder following two successive outrights victories, the latest against former top-placed St Albans Breakwater.
The Vikings completely dominated the match after managing just 140 in the first innings.
First they dismissed the Super Saints for 84 before going back in and smashing 8/176 from just 44 overs.
Batting a second time, St Albans Breakwater crumbled to be all out for only 63 in a disappointing result for the side.
Alexander Thomson plays Teesdale this round in a game that could not only consolidate its spot on top but also make it very hard for Teesdale to stay in touch with the top four if they lose.
Selections: Teesdale v ALEXANDER THOMSON, St Albans Breakwater v GEELONG WEST, Newcomb & District v WAURN PONDS-DEAKIN, Guild Saints v CORIO, BANNOCKBURN v Modewarre.