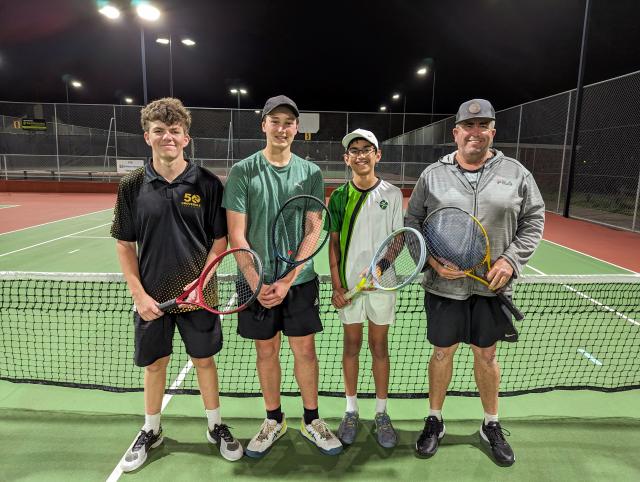 LOCAL TENNIS with Tyler Krumholz
The Women's Doubles and Open Triples spring seasons are halfway through and some teams have established a strong lead while others are in a battle for the top spot in the ladder.
The Women's Doubles Night competition is in its third season, and Grape Therapy's top end talent has led the way to a large lead in Section 1.
"We are doing well so far, but all teams have been competitive and have enjoyed the tennis," captain Donna Schoenmaekers said.
"Playing regular team matches and mixing in super rounds has kept things interesting and made the competition more social."
The Wallabies seem to be clear favourites in Section 2 Women's Doubles with a mix of players from Lara, Ocean Grove, and Grovedale only dropping one set in six weeks.
That set came this week in a competitive match against second-place Highton 1 however, which could be a potential grand final preview.
Section 1 Triples is led by four-time premiership team Moolap Two Phones Chol. However, second placed Grovedale is undefeated with a tight round three win over Moolap, who were missing the league's top player Shaun Grigg. Grigg's eventual departure to Gold Coast to be part of the Suns AFL coaching staff may play a role in the premiership race for this season and beyond.
The ladder is very tight in Section 2 with the Triples Wallabies team having a slight lead over a close pack of four teams. Two-time past Section 2 premiership team Winks Wizards are currently in wooden spoon position after an uptick in talent among their opponents this season.
Section 3's ladder is also a battle with two Lara teams in first and third, but the second-place Rally Cats are undefeated with three wins and two washouts.
Section 4 is being dominated by new team Grovedale Grand Slammers.
The Grand Slammers are captained by Section 1 junior player Fletcher Allen, who has put together a strong squad of three improving juniors, as well as his father Matthew Allen, a stalwart Saturday player returning this season from a hiatus.
Past premiership team Grovedale Four Posts gave the Grand Slammers all they could handle this past week in a grudge match battle of numbers one and two on the ladder, 4-2 on sets and 29-25 on games.
The Leopold Lizards have only lost four sets in their four matches in Section 5, but last season's runner-up Highton Flyers will likely have a say in deciding the premiership by the end of the season.