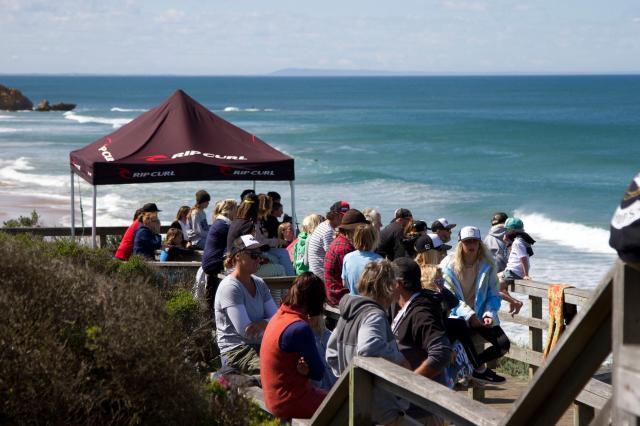 Ash Bolt
One of the biggest events on the calendar for the region's young surfers has been cancelled due to the COVID-19 pandemic.
Surfing Victoria and Rip Curl announced late last week it had cancelled the Rip Curl GromSearch at Jan Juc due to the increase in case numbers of the Surf Coast.
The surfing event was due to be held on Thursday and Friday, after previously being rescheduled from its original dates in September due to lockdowns.
Rip Curl team and events manager Mark Flanagan said with the COVID situation worsening nationally and on the Surf Coast, organisers had opted to cancel the event to ensure competitors, families and residents weren't further exposed to the virus.
As of Sunday there were 258 active cases recorded in the Surf Coast Shire.
"It's a difficult decision for us," he said.
"We want to run the GromSearch so kids can surf with their friends, but we're always mindful of the health and safety of competitors and of the best approach in the communities where we run."
GromSearch has been held nationally since 1999 as a way to identify the best young surfers aged 16 and under coming through the ranks.
The Jan Juc event was the second of three qualifying events, and the only one in Victoria.
The first event in Coolum, Queensland, went ahead in before Christmas, while a decision on whether a planned event in Newcastle, New South Wales, goes ahead next week was yet to be made.
Organisers said despite the cancellation, Victorian grommets would still be able to qualify for selection to the national finals, although they were yet to reveal that process.
The national finals were scheduled to be held in Melbourne in March.
GromSearch has kick started the careers of many notable international-level surfers including Olympic medallist Owen Wright, Sally Fitzgibbons and Steph Gilmore.
Jan Juc surfer Xavier Huxtable took out the top honours at the GromSearch international finals in 2018.