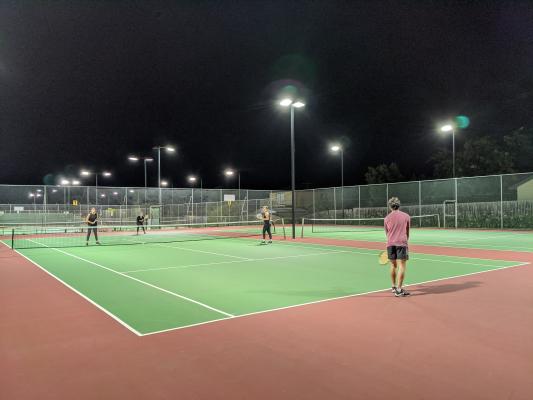 LOCAL TENNIS Tyler Crumholz
Matches across all divisions served up decisive results as the Tennis Geelong Triples Night Competition reached the midway point last Thursday.
In Section 1, the two teams from Highton Tennis Club, The Top Blokes and Blokes with Bats, solidified their top two positions on the ladder with wins over the Sijoma Aces and the Wallabies, respectively.
The Portarlington-based Sijoma Aces won the top singles match-up with Nathan Jorgensen enjoying a 6-4 victory over Timothy Chan, but it was too little, too late in the 4-2, 31-24 loss.
The Blokes with Bats seem to be finding form, exceeding their one-game margin of victory from round one with a 5-1, 34-13 win over the Wallabies in the rematch.
Kim Delbridge, James Anderson and Eli Worldon combined to only lose four games in total in the singles matches for the Blokes with Bats.
Surf Coast nudged ahead of the Wombats at the top of the Section 2 ladder with 4-2, 30-23 win over Leopold.
Next week's rematch could decide the minor premiership, as the Wombats stayed undefeated with a tight 3-3 29-24 win against Grovedale.
In Section 3, Leopold continued their dominant start as newcomers to the triples comp, with a 6-0, 36-13 win over the Dagwood Dogs.
Leopold has dropped only one set for the season and will be looking forward to their match-up with undefeated Go Crom next week.
Go Crom emerged as a 4-2, 34-17 winner over All Saints Anglican.
Coco Bewares took advantage of a missing player from BITG to avenge their Section 5 grand final loss from last season, 5-1, 35-15.
Wiii Tennis look like the team to beat in Section 4 with their fourth straight win, this time a 6-0, 36-11 result over the previously unbeaten Kangaroos.
They have only dropped two sets on the season. The other two Section 4 matches were similarly decisive, seeing Team SlitVision win 6-0, 36-10 over Racq Pacq, and Jeuce sweep The Gals 6-0, 36-18.
Tennis Geelong Triples is the only association tennis competition in Victoria to allow non-club member teams to participate.
Details: www.tennis.com.au/tennisgeelonginc