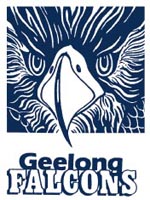 Mitch Knevitt has claimed the Geelong Falcons' Norris Harding Award as the NAB League club's best and fairest.
The club held a virtual online awards ceremony on Thursday night.
Mitch Knevitt, who was recently named in the NAB League team of the year, finished ahead of Cooper Whyte and Noah Gribble.
Knevitt found plenty of the ball this season.
In his nine games, his lowest possession count was 16. He had a season's best 36 in the club's final match of the season.
Knevitt was among those to test last weekend at a Vic Country AFL combine testing day.
In other awards, Charlie Brauer won the players award and Matthew Keast won the coaches award.