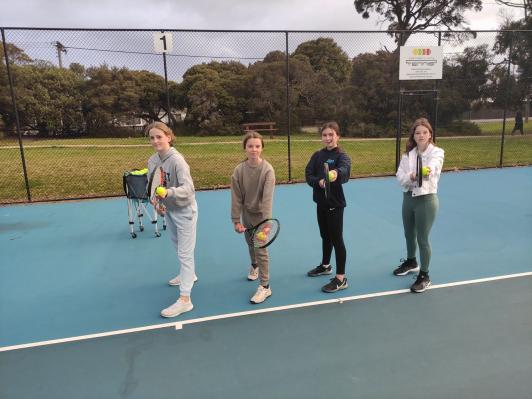 Donna Schoenmaekers
With all community competition sport on hold until November, the Tennis Geelong competition committees are busy grading and creating draws for the 181 junior and 113 senior teams for the upcoming 2021-22 summer season.
Waurn Ponds is a club that appears to be building again with two new junior teams and an extra senior team. The Ponds have submitted teams for six boys sections and will be hoping for section 1 with a couple of new faces to the competition.
On the seniors front, Billy Spicer, Jayson Tomicic and Nicole Mullen will be making the transition from section 1 mixed to section 1 men as they welcome James Brushfield to their ranks.
As coach at both Waurn Ponds and Inverleigh, Nicole Mullen would be happy to see an increase in junior teams at both clubs.
Inverleigh will have last summer's section 6 girls premiers returning to the court and a team of new starters playing their first season. The premiership for section 5 men in the senior competition also went to Inverleigh in the summer, so they will be looking to move up and do well again this season.
Ocean Grove had a small drop off in teams last summer, not doubt due to the pandemic, but they are back to normal with 8 boys and 7 girls teams.
The section 1 boys and girls teams both finished in fifth last summer, so they will be hoping for some improvement this season, and
put themselves into the finals.
In seniors, the Grove will again field teams in the top two men's grades.
The teams this season will look different with a change up to the combinations, and the inclusion of Ari Levinson.
The premiership in section 2 mixed last year went to the Grove, and after a reasonable performance in the winter, it would be expected that they will push up to the top grade.
It is good to see some of our smaller clubs continue to field teams.
Ceres have entered their usual combination, which has been together for more than 12 years.
Eastern Districts have the Heap family team continuing to play, with a couple of new faces coming back after time away from the game to complete the ranks.
Barwon Heads would be happy with their team numbers this season. The Heads have two teams registered for the top two men's sections, with the line-ups remaining largely unchanged and a mixed team returning after missing the 2020-21 summer.
The big move is juniors, with 17 teams registered.
This eclipses last season's club record of 14, and sees 20 players starting their first season. The girls continue to build from ground up with 10 new starters, and with good results from both summer and winter seasons the summer section 5 and 6 girls will continue to move up the ranks.
In the boys, the Heads will again field a section 1 team with Curtis Fitgerald and Lily Duff filling the void left by Ben Reid and Jordyn Aitken who have aged out.