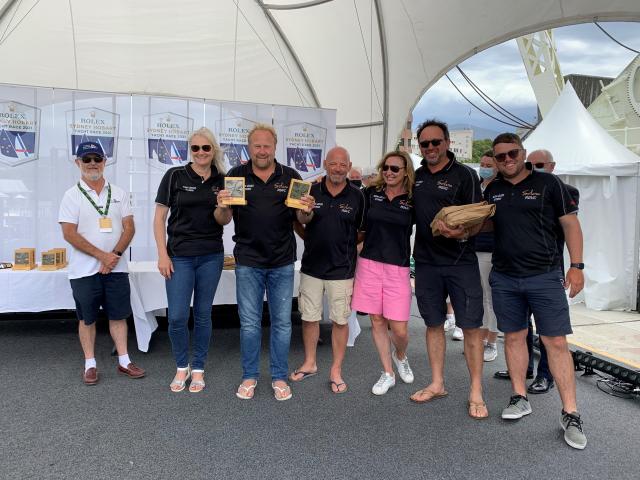 Ash Bolt
Stuart Richardson and his crew aboard the yacht Solera have secured a double victory in the annual Sydney to Hobart yacht race.
The Royal Geelong Yacht Club (RGYC) based team sailed to victory in both the Fully Crewed PHS and Corinthian PHS divisions after more than four and a half days at sea.
"I don't think it's sunk in yet," Richardson said.
"It's been such an amazing ride, from the trip to Sydney, to the race, the party and afterwards.
"Especially after only having the boat for 12 months and not being able to sail it due to COVID, we continually learned things about the boat and were still trying new things during the race."
Faced with an extremely challenging race, beginning with 24 to 30 hours of beating into a southerly breeze reaching up to 35 knots with a short, sharp swell, Richardson said he was proud of the way the crew handled themselves.
"The crew handled themselves really well," he said.
"At one point we had about 50 millimetres of rain, we were all drenched, and five out of the seven crew were sick.
"Once we got over the first 30 hours, we all regrouped and got back into our watch system and just kept plugging away."
Conditions eased on the second night and the race turned into a tactical battle as yachts and their navigators were tasked with finding the quickest route to Hobart in lighter breezes.
"It was good to have other boats around, which you don't normally have in ocean racing," Richardson said.
"There were about five yachts within sight, we'd go forward and then they'd go forward, so you could pace yourself on other boats."
RGYC commodore Stuart Dickson congratulated the crew on their achievement.
"We at the RGYC are extremely proud of Solera and her crew for winning in two divisions in what is one of the toughest blue water yacht races in the world," he said.
"The race stood up to its reputation once again and was an extremely challenging race with many boats retiring."
While a great experience and result, Richardson said he wasn't ready to commit to returning to the race later this year.
"I said to my wife I'd like to do every second year, but once you get the bug it's hard to stay away," he said.
Solera and her crew returned to Geelong this week and will be one of more than 180 yachts competing in the Festival of Sails later this month.
The RGYC was well represented throughout the Sydney to Hobart fleet with members competing on several yachts.
Paul Buchholz's RGYC team aboard Extasea, a Cookson 50 design, retired from the race on the first night having suffered problems with their engine and Stefan Treurniet aboard No Limit was also forced to retire.
However, RGYC members Tom Alexander, Ian Graf and Marty Maher aboard Flying Fish Arctos finished fifth in Fully Crewed PHS, while Jake Newman and Tim Davis aboard Smuggler finished sixth in IRC.
The Sydney to Hobart line honours were taken out by supermaxi Black Jack.