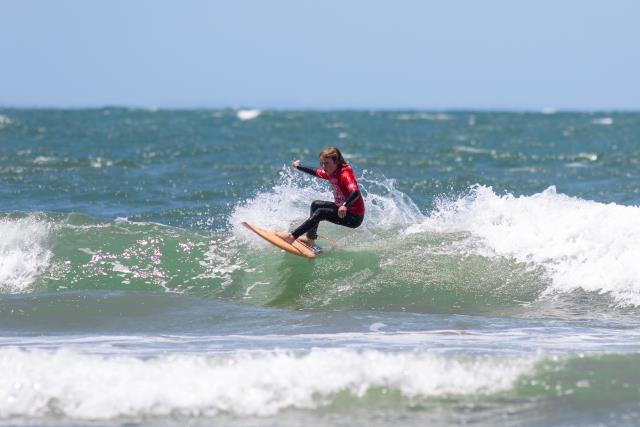 Junior Jan Juc surfer Jarvis Barrow was crowned the under-14 champion at the Woolworths Surfer Groms Comp at Torquay on Sunday.
The junior competition, which had been rescheduled from October, saw surfers from eight years old to 14 take to the swells for competition.
Barrow kicked off the final for the under 14 boys in style with a 7.50 ride before locking in a 7.00 ride to cap off the win.
"It's awesome to get the win," he said.
Jan Juc's Jack Lindsay finished second with a heat total of 12.10 points, while Ocean Grove's Oscar Kerr was fourth on 9.20 points.
In the under-14 girls' competition, current state champion Sara Hickson (Mornington Peninsula) was dominant on finals day scoring 17.67 points (out of a possible 20) in her semi-final before backing it up with a 17.17 heat total in the final.
Torquay surfer Dune Pruvot finished third with 6.00 points.
With their wins, Barrow and Hickson will now head up to northern NSW to attend an all-expenses-paid, three-day Woolworths Surfer Groms Comps National Final Surf Camp, which includes a one-day coaching clinic, two days of competition and heat analysis coaching at the Surfing Australia High Performance Centre.
"I'm stoked to go up to the camp up at the HPC. It should be heaps of fun to surf with all the other winners," Barrow said.
Other local surfers to win their divisions on Sunday included Jan Juc's Max Murray, who took out the under-eight competition with a score of 16.00 and the under 10 boys with a 16.36, and Mount Duneed's Kai Coleman, who claimed with under-12 boys title with a 10.10 in the final.
The national final, with the under-14 winners of all 10 regional finals held across the country, will take place in Casuarina NSW on December 17.
Ash Bolt