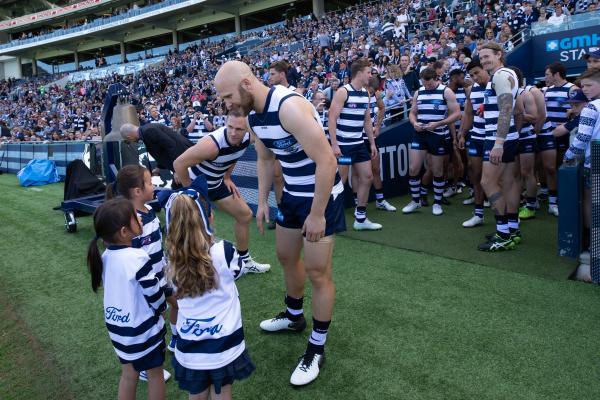 By Luke Voogt
As the eldest son of Cats legend Gary Ablett senior, some say 'junior' was destined for greatness.
But on Saturday he is set to play his 350th game in a career which, remarkably, requires little mention of his footy lineage.
Gary Ablett grew up in Modewarre and often attended dad's games with the Cats, where players regarded him and his siblings fondly as "barefooted pests".
He impressed coaches at Geelong Falcons and was drafted at pick 40 under the father-son rule, beginning his AFL career as a small forward in the opening round of 2002.
But his permanent move into the midfield in 2007 allowed him to grow outside of his father's tremendous shadow and begin creating a legacy of his own.
He withstood tackles with incredible core strength and burst from packs at breakneck speed to deliver the footy into the forward 50, or kick a goal himself.
His finishing skills were second-to-none, allowing him to pull some incredible goals out of the bag, often when the Cats needed it the most.
He helped the Cats win their first premiership in 44 years in 2007 and went on to win the Brownlow Medal during his second premiership season in 2009.
In 2010 Ablett signed a $9 million five-year contract with new club Gold Coast and began playing for the Suns in 2011.
Ablett continued his incredible form, winning another Brownlow Medal in 2013, but eventually struggled under the weight of carrying his new club and injuries.
In 2016 Ablett first requested a trade back to Geelong for family reasons.
Shortly after the death of his sister Natasha and following a year of media speculation, he returned to Geelong in October 2017.
At the end of 2019 Ablett signed a one-year deal with Geelong, then announcing this season would be his last.
Gary Ablett's top five moments:
Cometh the man – Preliminary Final 2007
In front of 98,002 fans Ablett gathered a bouncing ball following a tap from Brad Ottens, broke a tackle and kicked an incredible snap to put the Cats 11 points in front.
"Cometh the moment, cometh the man," proclaimed commentator Denis Cometti.
With a final margin of five points, the goal proved vital in sending the Cats into the grand final to win their first premiership in 44 years.
Little genius – Grand Final 2007
The game was still in the balance when Ablett left his man for an intercept spoil in the forward 50 midway through the first quarter.
He gathered the loose ball after knocking it forward and kicked a running goal to put the Cats up 21 to 8.
The goal was a sign of things to come in the drought-breaking, 119-point thrashing of Port Adelaide.
Miracle goal – round 5, 2009
"That is as good as it gets! From the genius!" Dwayne Russell declared as Gary Ablett snapped a goal from the boundary line in the right forward pocket at Kardinia Park against Brisbane.
Ablett received a handball and was running hard towards the boundary when he kicked the ball in almost the opposite direction for the miracle goal.
Four years later Ablett kicked an almost identical goal for Gold Coast against Geelong that some might argue was even better.
But if we have to choose, we'll go with the one in blue and white.
The toe poke – Grand Final 2009
With scores level against St Kilda late in the last, Steve Johnson kicked to Ablett in a paddock of space.
But Zac Dawson dashed out of nowhere to spoil an easy mark.
Just when it seemed the ball would go the other way, Matthew Scarlett's genius toe poke put the Sherrin back in Ablett's hands.
Ablett, looking forward and mistaking Scarlett shepherding him for an opposition player, sprinted and launched a kick from 80m outside goal.
Travis Varcoe gathered the loose ball in the goal square and handballed to Paul Chapman who snapped a goal. The rest was history.
Easter specky – round 5, 2019
At almost 35 Ablett wound back the clock to take an absolute screamer over David Mirra just outside the square before slotting the set shot with a kick around the body.
Ablett also kicked an incredible check-side goal in Geelong's 23-point Easter Monday victory over Hawthorn.