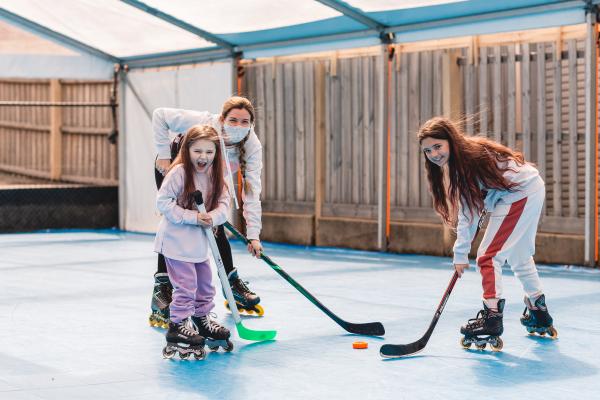 By Luke Voogt
The clash of hockey sticks echoed in a Newtown car park this week after Rollerway Skate Centre came up with an ingenious way to keep juniors training.
Initially the centre would have been forced to wait several more weeks to reopen, being an indoor venue, manager Ashlie Aparicio explained.
"We didn't want to wait that long and our people didn't want to wait that long," she said.
"So we got a bit creative and went outside instead. We wanted to give them the Rollerway experience in the best way we could while keeping it safe and meeting restrictions."
Despite Rollerway being a large venue with ventilation turning over a "huge volume of air", current restrictions did not allow it to reopen indoors, Ms Aparicio said.
"We do genuinely believe we're quite safe but unfortunately that's the restrictions we have to follow."
With the car park empty, Rollerway began building an outdoor rink instead, and hired a steel frame to create "a wedding-style" marquee, Ms Aparicio said.
"It was a bit of an expensive idea. We were lucky that we had enough spare tiles to build a rink outside."
Now junior inline hockey players can practice outdoors while protected from the weather.
"We're starting off with some practice games just to get the kids into it," Ms Aparicio said.
"We didn't want to just slap some tiles down and have people skate.
"It meets the requirement of having at least two open sides; we have three sides open with the option of having the fourth side open."
The centre might even host matches at night under lights or during daylight savings.
"We played into the twilight when we had our hockey test," Ms Aparicio said.
The centre is also running skate sessions for 10 children at a time.
"Kids are bit bored at home at the moment, so they can come have a skate," Ms Aparicio said.
Details: rollerway.com.au