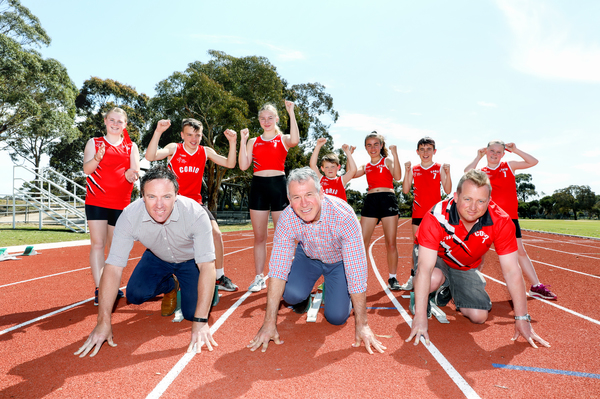 Budding athletes in Geelong's north will hit their stride on a new "state-of-the-art" track after a $1.3 million upgrade at Goldsworthy Reserve Corio.
Council will officially open the International Association of Athletics Federations (IAAF) approved track on Saturday after fully funding the upgrade.
The track now features a synthetic rubber surface with in-ground technology to provide precise timing and data logging.
The makeover has also delivered new triple-jump and long-jump facilities, synthetic turf in throw cages, improved drainage and pavements, and root barriers for nearby trees.
Windermere ward councillor Anthony Aitken described the project as a significant investment for Geelong's north creating an "asset of regional standard".
"We hope the venue will assist in the development of future Olympic and Paralympic champions from Geelong," he said.
"My family has a strong connection and history at the venue, with my mother and late father both (being) life members.
"I ran, jumped and threw at little athletics alongside my brother and sister.
"Given the number of grazed knees I endured when the track was made of asphalt, I envy today's little athletes who'll get to run on the modern synthetic rubber track."
The venue is home to Corio Little Athletics Centre, which includes Bell Park, Corio South, Corio West, Golden Plains and Lara little athletics clubs.
"The redevelopment is a terrific result for the Corio Little Athletics Centre, local schools and residents in Geelong's northern suburbs," deputy mayor Peter Murrihy said.
"The council was proud to fully fund it."
Mayor Bruce Harwood will officially open the redeveloped facility at 10.30am on Saturday, coinciding with the start of the new little athletics season.
"We know high-quality recreational facilities help encourage physical activity, in turn creating huge health and wellbeing benefits," he said.
"Given Little Athletics was invented in Geelong in 1964 by Trevor Billingham, it's appropriate that we continue to support athletics strongly.
"We hope little athletes will enjoy the new track and that it will help them develop a lifelong love of the sport."
Corio Little Athletics Centre has secured Avalon Airport as a naming rights sponsor for this season.
The venue will be known as Avalon Airport Athletics Arena for the duration of the season.