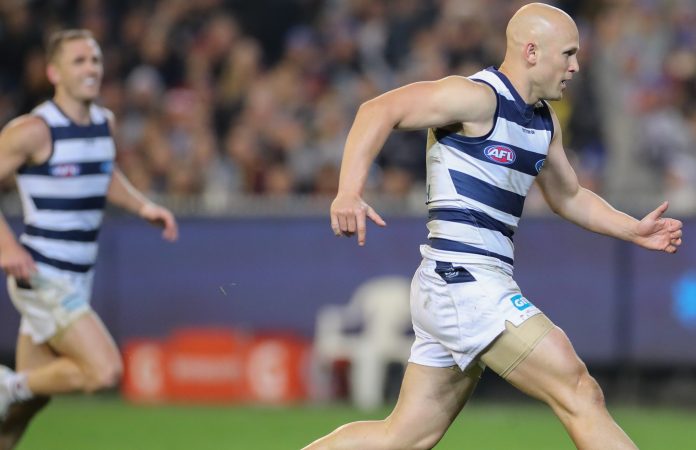 By Luke Voogt
Two of Geelong's favourite sons, Gary Ablett and Joel Selwood, are set to play their 350th and 300th games when the Cats take on the Suns on Saturday.
"They've just been remarkable players and people for our footy club that will go down as all-time greats," Cats coach Chris Scott said on Tuesday.
While the Cats would not "shy away" from celebrating the combined 650-game milestone, Scott did not want it to be "all-consuming" and take their focus "away from what's most important".
"Which is playing well against an up-and-coming side who are in really good form," he said.
"It's important that we play well for a whole host of reasons and the fact that it's a milestone for those guys is only one of them."
One of those in-form players who had Scott's admiration was rookie midfielder Matt Rowell, who he compared to the Cats' skipper in his debut year.
"My mind does go back a little bit to Chris Judd and Joel Selwood when they started in the competition," he said.
"He wins his own ball by the looks of it, he's got speed and power and there doesn't seem to be many flaws in his game.
"I'll look a bit closer this week and see if I can find some, but I think I'll be looking for a long time."
While Scott planned not to overlook the other talent Gold Coast had accumulated, he said the Cats would look for a match-up on "the hard tag end of the spectrum" for Rowell.
"They're talented all across their midfield, so I don't think we'll be completely focussed on him, but he should expect some attention."
With the Cats preparing to travel to Perth for three weeks beginning in round 7, Scott said the team were ready for further interstate hubs given the recent spike in Victorian COVID-19 cases.
"It's been an amazing challenge up to this point already and I suspect it's going to get harder, especially with the Victorian situation.
"We were talking about this situation as an existential threat only months ago, so to quibble over home games or travel or hubs just seems a little off the mark for mine."
Scott said the Cats put a "high priority" on players' families and club staff but stressed the importance of sacrifices to keep the season "alive" and keep "good footy people" employed.
"My private discussions at home have been that it would be much better for us to have a bit of short-term pain but be able to continue in my position, rather than being stuck at home in quarantine without a salary."
Dual All-Australian defender Tom Stewart is sidelined after undergoing surgery this week for a broken collarbone from a bump during Geelong's ugly three-point win against Melbourne.
"He's not the sort of player that you can replace. You just need to go with a different look," Scott said.
"That's going to hurt a little bit but it's an opportunity for others."
Scott also ruled out ruckman Rhys Stanley who sustained a medial ligament (knee) injury during round 3.
The Cats should bring a completely different brand of football to that which saw them narrowly withstand a late comeback from Melbourne.
While the Suns are in red-hot form after winning their last three convincingly, Geelong should put in a huge effort for two club legends celebrating remarkable milestones.
Geelong by 3 points.