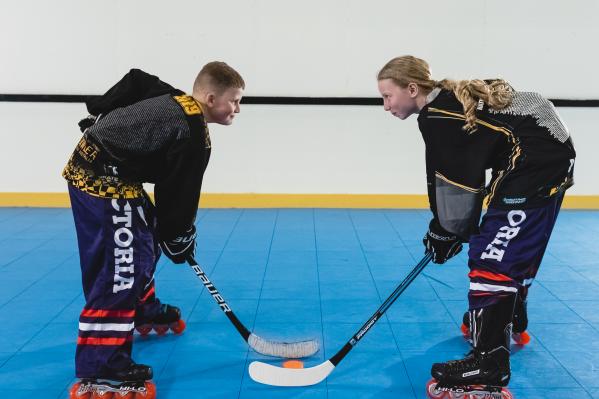 By Luke Voogt
Siblings Talisha and Hayden Brooker faced off in an inline hockey grand final clash on Wednesday night as competition returned to Rollerway Newtown after a long hiatus.
The Leopold brother and sister played as goaltenders in the third-place playoff before taking off the goalie pads to again play on opposing sides in the skate centre's intermediate grand final.
"They were so excited to return to hockey," their mum Leanne told the Independent.
"They've been playing for about four years and they've represented Victoria."
Talisha, 12, and Hayden, 8, continued playing hockey together in the garage during lockdown and would put on their skates for family walks, Leanne said.
"We even got a pinata and hung it on a hockey net."
Talisha said had she missed hockey "lots", as well as coaching from centre manager Ashlie Aparicio.
"She's amazing and she taught us the skills. You can make lots of new friends at hockey. But mostly, it's fun."
Talisha reckoned she had a slight edge over her younger brother.
"I play smarter hockey, where Hayden sort of dashes and darts all over the rink," she said.
Rollerway postponed the finals, initially scheduled for March, amid the COVID-19 outbreak.
The centre's juniors returned to practice matches a fortnight ago as under 18 sports restarted across Victoria.
Centre manager Ash and dad Raul spent hundreds of hours planning and training staff to make their venue as COVID-safe as possible.
The centre is now divided into separate zones, with six hand sanitation units, routine intensive cleaning and strict attendance limits.
"Parents that can are just dropping their kids off or waiting in the car," Ash said.
"The juniors are the future of our sport, so great to see them training, playing and competing again."
And as for this season's bragging rights, ***Insert result here***