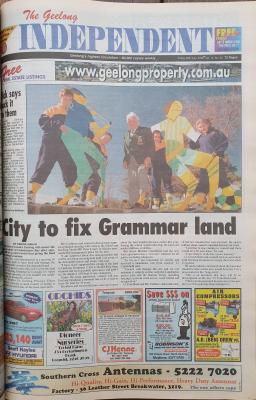 20 years ago
July 28, 2000
The City of Greater Geelong will restore the eastern shore of Limeburners Bay after signing off on a controversial deal giving the land to Geelong Grammar.
Councillors voted unanimously at a meeting on Wednesday night to lease back and manage the environmentally-sensitive but degraded land.
15 years ago
July 29, 2005
Geelong's council decided at a pre-meeting dinner this week to gag public debate on police shortages in the region, according to councillors.
In the meeting, Ocean Grove councillor Jan Farrell moved that council express concern at the shortage of police at Geelong, Bellarine and Surf Coast stations.
10 years ago
July 30, 2010
Residents will suffer under a Victoria Police plan to transfer Corio's Criminal Investigation Unit to the Geelong station, officers have revealed.
A Corio detective, who wanted to remain anonymous, said crimefighting services would "deteriorate" after the move on Monday.
5 years ago
July 31, 2015
George Fallaw and Rose Steele kick up their heels to toast Geelong's newest event.
Geelong Mayor Darryn Lyons' Big Group has joined forces with an events manager to bring to the city an authentic taste of Germany's favourite festival.