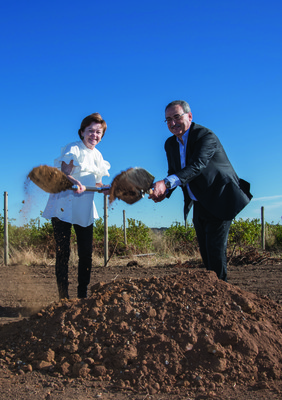 Work is about to begin on a $30 million solar "microgrid" to power Deakin University's Waurn Ponds campus.
Vice-Chancellor Professor Jane den Hollander joined energy industry figures to turn the first sod on the project this week.
The "Renewable Energy Microgrid" would comprise a 14.5-hectare solar farm with a one-megawatt battery and rooftop panels connected to smaller batteries around the campus.
Deakin expects to complete the system "late this year".
The university has partnered with publicly listed energy company AusNet Services, which is 50 per cent Singapore and Chinese-owned. AusNet's commercial renewable energy arm, Mondo, is also involved.
Deakin said the industrial-scale system would "provide an integrated research and education platform, and contribute to the university's sustainability goals".
"Construction is set to begin as soon as possible and is being undertaken by Victorian companies, which is already resulting in local employment that will raise workers' skill levels in globally relevant jobs."
Prof den Hollander said the partnership would build Deakin's and AusNet's "capacities as leaders in the development of innovative energy systems while also enabling the University to reduce its carbon footprint".
"This partnership gives Deakin an unparalleled opportunity to help drive the renewable energy revolution by providing unique opportunities for researchers to develop and test solutions at an industrial scale and train the next generation of energy professionals," she said.
"The university will also be able to reduce carbon emissions by an estimated 12,000 tonnes per year and generate half of the Waurn Ponds campus' energy needs on site, supporting Deakin's aspiration to be carbon neutral by 2030.
AusNet managing director Nino Ficca said the partnership with Deakin would provide "education and career pathways" for the "energy networks of the future".
"This micro-grid project will not only provide clean, renewable energy but also a world-class learning and education hub," he said.