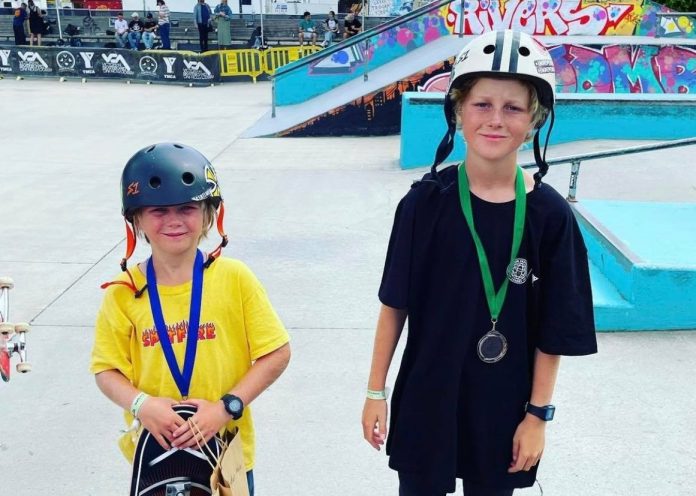 By Luke Voogt
Belmont brothers Paddy and Leo Mccaughley hope to skateboard in the Los Angeles or Brisbane Olympics after winning state and national championships earlier this year.
Paddy won the under 10s title at the Australian Skateboarding League National Championships at Moomba festival in March, while older brother Leo was third in Victoria in the under 13s, according to proud mum Ange Liston-Mccaughley.
"My hubby Leif was a sponsored skater back in the day and taught them all their tricks, and now coaches them," she said.
The boys will tune in to cheer on Australian hopeful Kieran Woolley in the park skateboarding heats in the Tokyo Olympics next Thursday.
They met the 17-year-old at Moomba, where he won the open championship on his path to the Tokyo Olympics – the first in history to include skateboarding as a sport.
"It's so good to have skateboarding in the Olympics and getting the coverage it deserves," Ange said.
"It's great for the young ones to have some role models to look up to."
Paddy and Leo hope to head to Mackay, Queensland, in September, depending on the COVID-19 situation, after being chosen to compete in the Australian Skateboarding Federation's street championships – AKA Rumble on the Reef.
"All these championships are training them up for the 2028 Los Angeles Olympics or Brisbane in 2032," Ange said.