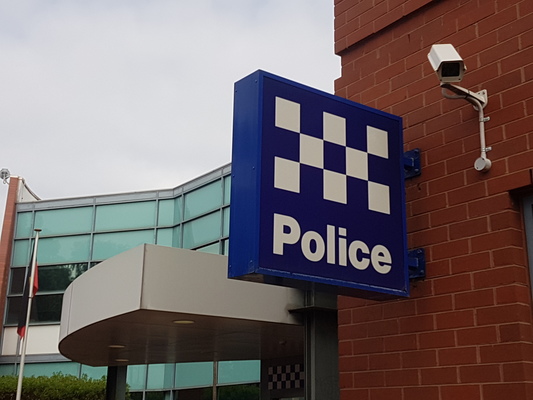 By Luke Voogt
Police have arrested four alleged offenders following a high-speed pursuit at Geelong West and a series of violent burglaries across Melbourne.
Southern Metro Crime Team detectives arrested 18-year-old  Shepparton man Ali Sari at Kingsbury about 9.45pm on Wednesday.
They also arrested a 16-year-old boy from Broadmeadows and a 20-year-old Beveridge man.
Police arrested a 17-year-old boy at Corio Central Shopping Centre about 11am on Tuesday. All four remained in custody, police said.
Officers recovered a BMW X5 allegedly stolen during an aggravated burglary in Melbourne's north that morning.
Police spotted the BMW on Latrobe Tce, Geelong West, about 4.50am on Tuesday morning.
Officers initiated a short pursuit before terminating it due to excessive speed, police said.
Police believed the offenders stole the BMW in an aggravated burglary at Mernda about 4am on Tuesday.
Armed with edged weapons and metal poles, they gained entry into an Avoca Avenue residence before threatening the occupants and stealing various items, police alleged.
A 41-year-old man sustained minor injuries to his face, while a 40-year-old woman and two children were physically unharmed.
Police had earlier spotted the BMW on Princes Fwy in convoy with an allegedly-stolen Mercedes.
Police believed the offenders stole the Mercedes at Derrimut about 12.10am on Monday morning, before dumping it on Lunan Avenue, Drumcondra, on Tuesday morning.
The theft occurred during an aggravated burglary where four masked men armed with knives broke into a house on Ivy Close, Derrimut, police said.
Offenders assaulted a 65-year-old man who sustained a minor laceration during the incident, police alleged.
A 58-year-old woman, 91-year-old man and 64-year-old woman also home at the time were physically unharmed, police said.
The offenders stole a grey Mercedes sedan and Honda HR-V.
Police believe the aggravated burglaries were linked to three further violent incidents across Melbourne on Sunday night.
Four males, one armed with a knife, broke into a Bentley East house about 8.40pm, assaulting the two occupants, ransacking the home and stealing a BMW, police said.
The offenders crashed the car on Westgate Fwy before attempting to carjack a motorist, who escaped along with his passenger, police said.
The group later threatened a woman with a knife as she was about to put her child in her car at Port Melbourne, police alleged.
They stole her Hyundai before dumping it at Derrimut prior to the aggravated burglary there, police said.
Police were still hunting two other offenders and a stolen black Honda HRV station wagon registration 1EY 3DI on Thursday.