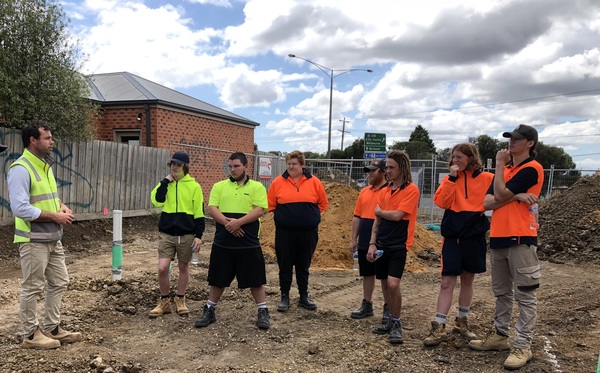 A new program is linking employers with "job-ready young people" from disadvantaged areas of Geelong to reverse a shortage of construction workers.
Community-development groups Northern Futures and Whittington Works are among partners in the Regional Industry Sector Employment (RISE) program, also involving government, training and industrial organisations.
"While the building industry is booming, with an increase in housing demand across Geelong, there is a current shortfall of construction workers," a RISE spokesperson said.
"The RISE program is a collaborative approach that matches building industry vacancies with young people seeking pathways to employment. Partners collaborate to create a sustainable local workforce by promoting apprenticeships and providing support to apprentices to increase their retention rates."
Some of the support included encouraging "suitable secondary school students" into Vocational Education and Training while matching skills with industry needs, the spokesperson said.
"Support measures for young job-seekers include enrolment in trade taster courses, mentoring and support throughout apprenticeship and financial support to cover the costs of a construction white card, enrolment fees and personal protective equipment."
The program has earned praise from industry operators.
Geelong Master Builder's committee member and Hamlan Homes general manager Andrew Carroll noted the paradox of the strong local demand for tradies at the same time as "not enough young people" undertook apprenticeships.
"Together we have a great ability to train a sustainable workforce in Geelong, which is important for Geelong, and its success will be life-changing for these young people", Mr Carroll said.
Prominent Geelong commercial builder Lyons Construction has also backed RISE.
"We welcome the opportunity to assist in the development of aspiring apprentices by introducing them to our work sites and trades, which in turn benefits our future workforce," said the company's director and commercial manager, Steve Lyons.
Hamlan Homes' Cory Baur was "impressed" after hosting RISE participants on a recent site tour.
"They were enthusiastic and engaged, discussing the building process and gaining a better understanding of the trades they are considering as their future career."
The program could eventually expand from construction to other industries, said City Hall's Tim Hall.
"The construction industry is the current focus but the RISE program is an adaptable model that will be used in the future to bring together stakeholders in other industries experiencing labour shortages" he said.