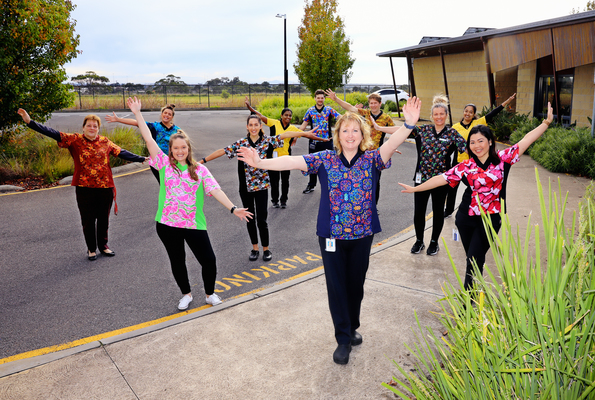 By Luke Voogt
Butterflies, super heroes and Star Wars Stormtroopers adorn the scrubs of aged care workers in Grovedale thanks to nurse and mother-of-two Melissa Nielsen.
The enrolled nurse, who recently turned 50, came up with colourful idea when Alan David Lodge went into lockdown due to COVID-19 restrictions, temporarily halting visits.
"It was dreary, we had no visitors at work and it was really quiet," the Belmont local told the Independent.
"We needed to brighten the place up a bit because the residents seemed a bit down.
"Originally, I just made a couple for myself and wore them to work."
But her colleagues were soon requesting their own custom-made scrubs and Melissa has since sewn about 60.
"I'm doing super heroes, fruit, flowers, trees… pretty much everything that's nice and bright," she said.
"It's actually cheered up a lot of the residents too – it's been a talking point. They like bright colours instead of the navy blue, the navy blue gets a bit boring."
She is also making pillowcases and other items to cheer up the elderly residents at the Barwon Health facility.
One resident was in tears after receiving a butterfly-themed pillow, according to Melissa.
"[She] loves butterflies," she said.
"She was beside herself – she was very happy. Now every time I make different scrubs, she wants a different pillow!"
An avid sewer when she was younger, Melissa found the patterns for the scrubs while out shopping for material.
"The first few were a bit rough but I've picked it back up again and now I'm just sewing my little heart out," she said
"My husband's still working, I'm still working and when I'm not, I'm sewing, so I'm never bored."
She celebrated the half-century milestone on April 18 at home with her two daughters, both studying at university online amid COVID-19 restrictions.
"My youngest daughter is going to be a nurse," she said.
"I didn't have much of party. But I had lots of conversations over the phone of course, and they had a little party at work for me, which was unexpected and lovely.
"Apparently my daughters have planned a big one.  When this is all over we'll celebrate then."