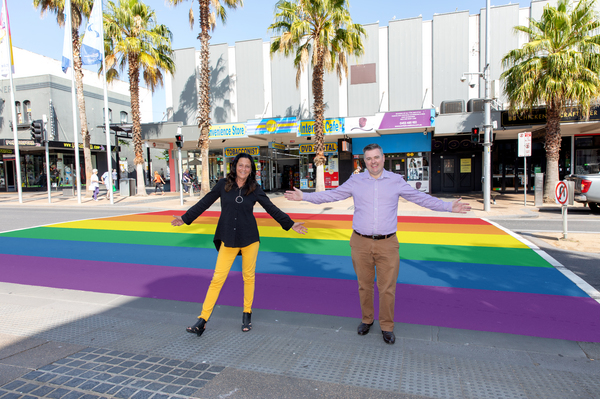 By Luke Voogt
A rainbow-coloured makeover is set to transform central Geelong in time for an annual gay pride festival, following a council announcement this week.
Geelong's council unanimously supported Anthony Aitken's proposal to paint rainbow crossings on Little Malop St in support of the local LGBTIQA+ community on Tuesday night.
"I'm really proud council has supported this decision," he said.
"To be a truly inclusive community, a person or group of people need to feel supported, inspired and connected."
Cr Aitken's motion will see council paint temporary rainbow crossings on Little Malop St near the mall in time for the Geelong Rainbow Festival.
"Our LGBTIQA+ community can celebrate their inclusiveness, which a rainbow crossing demonstrates every day," he said.
City Hall will also seek "urgent" support from State Government to paint a rainbow across Moorabool Street connecting both sides of Little Malop Street.
The project would involve working with Regional Roads Victoria to paint the rainbow at the busy crossing, according to the council.
The crossing would serve a dual purpose as gesture towards the LGBTIQA+ community and making central Geelong safer for wheelchair users, Cr Aitken explained.
Buses and cars often got stuck between traffic lights in Moorabool Street due to traffic, impeding wheelchair access, he said.
Able-bodied pedestrians could cross by navigating around these vehicles but wheelchair users and other disabled pedestrians sometimes could not, Cr Aitken said.
Wheelchair users had been forced to wait for up to three traffic light changes before being able to cross, he said.
But the rainbow colours would increase the visibility of the existing crossings and discourage motorists from stopping on them, Cr Aitkin said.
"Rainbow crossings are a small but significant step by council which demonstrates our commitment to marginalised sections of our community."
Geelong Mayor Stephanie Asher said Cr Aitken's proposal was consistent with council strategies to be "an inclusive community for all".
"The new rainbow crossings will give us great cause to celebrate our diverse community," she said.
The third annual Geelong Rainbow Festival begins next Tuesday and runs until Sunday, with dances, plays, films, a pride march and other activities.