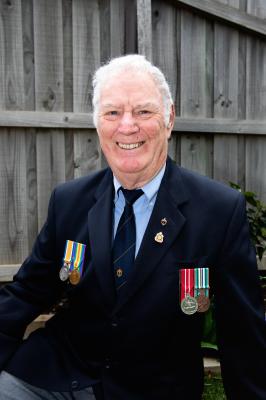 By Luke Voogt
At age 13 Leopold's Russell Cameron discovered firsthand Legacy's important work for families whose loved ones made the ultimate sacrifice.
The former national serviceman, now 80, first encountered the organisation after the death his father Andrew Cameron, who served in World War I.
Private Cameron served as a runner in France and Belgium from 1916 to 1918, sneaking into No man's land to gather information for his commanding officers.
"He was very quiet about the war," Mr Cameron said.
"There was a lot of gassing going on and ultimately that didn't help his health in the time that I was with him.
"Legacy stepped into my life and they cared for my mother and I."
After decades as a teacher and fitter and turner, following a year of national service in 1959, Mr Cameron re-joined Legacy as a volunteer in 2000.
Currently, Geelong Legacy Club supports more than 700 widows and widowers, 14 school-aged students and 14 disabled adult children of deceased veterans.
"We get very, very little government assistance," Mr Cameron said.
"Almost all of our funds come from donations and Legacy Week badge sales."
But COVID-19 has caused the cancellation of Legacy Week, which normally takes place at the beginning of September.
Mr Cameron instead urged Geelong locals to donate online.
For details email: legacyglg@gmail.com