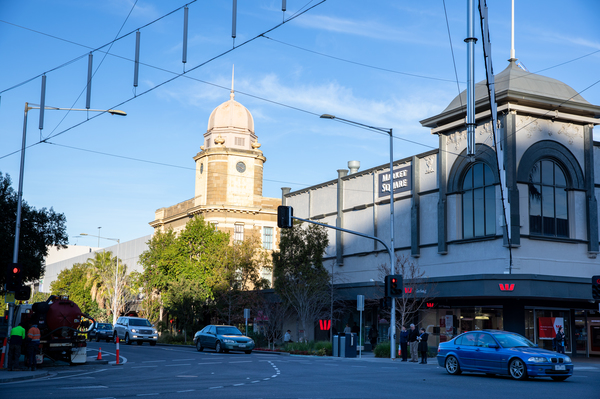 By Luke Voogt
Central Geelong's controversial Green Spine project has halved traffic on Malop St, according to a council report released this week.
But most of the removed traffic was now travelling down adjacent Brougham St instead, according to council economy, investment and attraction director Brett Luxford.
"From traffic signal data taken from March 2016 and March 2019 we can see that Malop St and Brougham St have comparatively swapped traffic volume," he said.
Ward councillor Eddy Kontelj requested the report into the "over-engineered" Green Spine in February when traders described Malop St as "a clogged artery".
Cr Kontelj called for the removal of at least one bike lane, saying he had received hundreds of complaints about traffic congestion.
Malop St trader Sebastian Loader described the $8 million first stage of the Green Spine from Yarra St to Moorabool St as a congested "disgrace".
Cr Kontelj said this week that he was "still receiving feedback from retailers and the community that connectivity, safety and traffic need to be looked at".
The recent council report revealed that stage one had reduced traffic from 11,500 vehicles daily in 2016 to 5944 in 2019 on Malop St and increased pedestrians by 11 per cent.
But traffic on Brougham St increased from 7909 to 11321 cars during the same period.
The report also revealed that the number of vehicles turning right from Malop St into Moorabool St during afternoon peak traffic had increased 268 per cent.
Delay times were almost two minutes longer at the Moorabool St intersection for traffic travelling east along Malop St, the report said.
A total delay of 137 seconds, up from 20, was more than six times the delay council officers modelled in Green Spine planning three years ago.
Figures on Malop St bike traffic were absent from the report.
Council requested a further report from chief executive officer Martin Cutter outlining costs and timelines to rebuild turning lanes at Yarra St and Moorabool St intersections, which City Hall initially removed for the Green Spine.
The report would allow council to examine all options and make sure the Green Spine was "performing the best it possibly can", Cr Kontelj said.
Council allocated an estimated $10,000 from "existing programs" for directional signage, light changes and a public education campaign to reduce the number of cars blocking intersections.
The report concluded that the removal of turning lanes and signal changes, rather than new bike lanes, had impacted traffic flow.