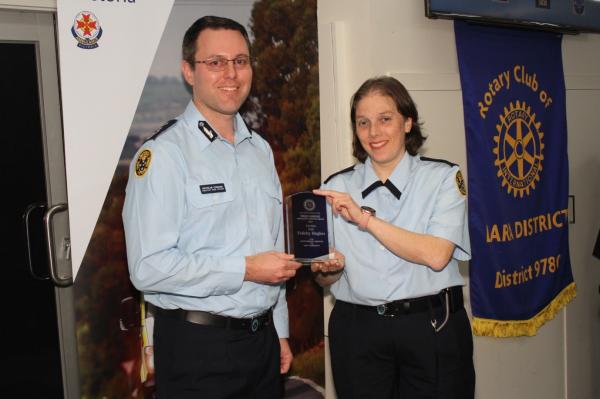 By Luke Voogt
Corio VICSES deputy controller Felicity Hughes has won a local award for her commitment to her community and "going above and beyond" as a VICSES volunteer.
VICSES South Barwon regional manager Nick Cowham presented Ms Hughes with the Fred Grove Memorial Award at Lara Sporting Club earlier this month.
"Felicity is the epitome of what it means to be a VICSES volunteer," Mr Cowham said.
"Her dedication to the service and the community is truly outstanding.
"Felicity's passion, leadership and dedication to developing our members is truly commendable."
Ms Hughes has attended more than 400 calls for help in her volunteer career, including 144 in 2020 alone.
VICSES describes her as a well-respected leader and role model within the unit, who "throws herself at any challenge that comes her way".
"In addition to attending operational incidents, Felicity also dedicates her time to training fellow members and assisting in managing the day-to-day operations of the unit," a VICSES spokesperson said.
In her role as deputy controller of operations, Ms Hughes is responsible for ensuring the readiness of the Corio unit for all emergencies.
This includes tasks ranging from maintenance and restocking to strategic planning and positioning of personnel and assets for emergencies.
The award commemorates Fred Grove, a much-loved and highly-regarded member of Lara's emergency services and broader community.
A CFA volunteer for 52 years, Fred also served as a Victoria Police officer for four decades and was an active Rotarian for more than 25 years.