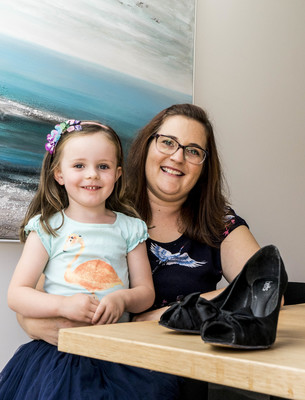 By Luke Voogt
Megan Bennett had no idea a condition causing her feet to swell up before a friend's wedding would prevent her having children for five years.
The Clifton Springs mum only saw her GP in 2010 to fit into shoes she purchased for the bridal party.
But tests revealed scarring in her kidneys causing low blood protein.
"The doctor said, 'you don't want to think about having children anytime soon'," she said.
"We had been married a couple of years and were thinking (of starting) a family in the next couple."
The condition would require her to take medication and be in remission for 12 months before trying for a baby, her GP explained.
"It's a lot of tablets each day but considering the alternatives I'm pretty happy with that."
Any relapse would start the process again and it took until 2015 for Megan to give birth to daughter Edith.
She still wore the shoes at the wedding ceremony, but her family brought looser footwear for the reception after the discomfort nearly left her in tears.
More Australians die of kidney-related disease each year than breast cancer, prostate cancer and road accidents combined, according to Kidney Health Australia.
Of 1.7 million Australians with kidney disease, 1.5 million are not diagnosed, the organisation said.
Megan urged Geelong locals to take a free online test at kidney.org.au during Kidney Health Week, beginning 8 April.