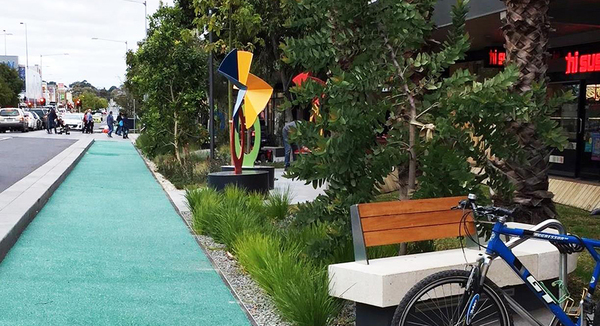 By Luke Voogt
A stoush over council plans to alter the controversial Green Spine has reached the federal government, with Senator Sarah Henderson accusing state MPs of "bully boy tactics".
The locally-based senator took aim at Bellarine MP Lisa Neville, who froze state funding for some Geelong projects after the council voted to reinstate turning lanes on Malop St.
"It's disgraceful that state Labor has frozen funding for Geelong council's CBD infrastructure projects," she said this week.
"The state government must stop its bullying, reverse its funding freeze and work constructively with the City of Greater Geelong."
Ms Henderson blamed the state government for central Geelong's "planning mess", stressing that state-appointed administrators approved the $8 million Green Spine in 2017, not the council.
The administrators took over after state government sacked council in 2016 amid bullying allegations.
Ms Henderson's come after the council voted 6-5 to remove a bike lane on the north side of the Green Spine, Malop St, and reinstate right-turn lanes onto Moorabool St.
The decision, which included reinstating more on-street parking, followed "strong feedback" from the community, according to Geelong Mayor Stephanie Asher.
"It's become clear that our community is frustrated with the traffic congestion along Malop Street and, as their elected representatives, it's our duty to respond," she said.
"We believe these changes will help get traffic moving again, without compromising the aim of the project, which is to create a greener, more attractive city centre."
Cr Asher said it was "unfair" to expect Geelong locals to "leave their cars at home" without state government improving bus services first.
But Ms Neville this week slammed the decision as "outrageous" and "incredibly disappointing".
"Both myself and the Planning Minister sat down with the mayor and the CEO at the end last year to say, 'if you do this there will be consequences'," she told a press conference earlier this week.
"And those consequences are things like we'll freeze funding for any CBD projects that belong to the City of Greater Geelong."
The state government would look at "all options" to "step in" including taking over the road so council "can't tear it up", she said.
"We cannot let them continue to waste ratepayers and now taxpayers money by investing $8 million in this Green spine, that has been fantastic for the community, and now $2 million to rip it all up."