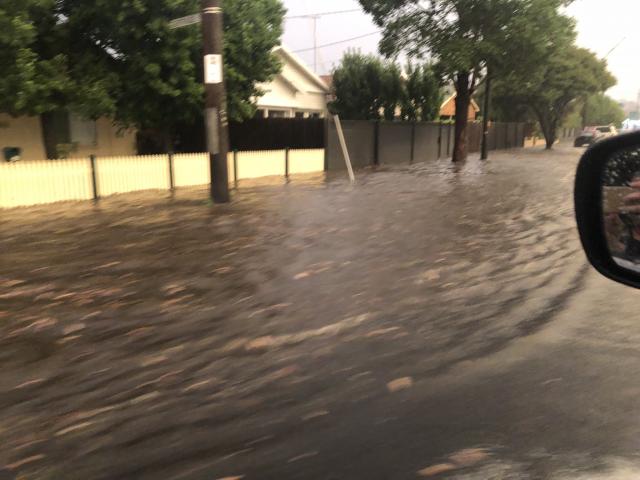 Ash Bolt
Heavy rainfall on Thursday caused flash flooding across Geelong, with some areas seeing up to 30mm of rain in just 21 minutes.
Bureau of Meteorology data from the Geelong Racecourse weather station showed 40.8mm of rain fell on Thursday, including 30mm between 8.17pm and 8.38pm.
Residents took to social media to show the impact of the rainfall, with many suburbs experiencing flash flooding.
Videos and images shared online showed streets in Belmont and Highton suffering significant flooding, as well as the Waterfront.
The State Emergency Service issued flash flooding warnings on Thursday night and urged resident to stay indoors and not enter floodwaters.
The Geelong SES unit shared on social media just after midnight that it had received 46 calls for assistance in the previous three and a half hours, and had rescued three people trapped in floodwaters.
They also received calls for flooded residential and commercial properties, ceiling collapses, roof damage and trees down around Geelong.
The South Barwon SES unit was also kept busy, receiving well over 120 calls for assistance.
According to Bureau of Meteorology data, it was the greatest amount of rainfall Geelong had received in 24 hours since April 2017.
There is a possibility the rain could continue today, with the bureau forecasting Geelong could receive between four and 15mm of rain from 11am-2pm and 2pm-5pm.
However the rain is supposed to ease tonight ahead of the weekend.