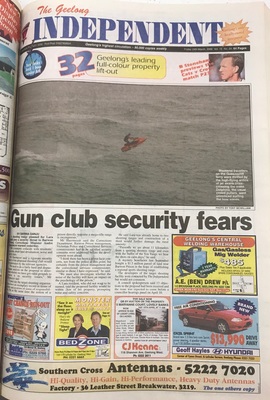 20 years ago
March 24, 2000
A shooting range planned for Lara could pose a security threat to Barwon Prison, Corrections Minister Andre Haermeyer warned yesterday. His comments coincide with residents' concerns about land devaluation, noise and safety fears.
15 years ago
March 24, 2005
Geelong coach Mark Thompson yesterday shrugged off claims Cats recruit Brad Ottens left Richmond for money as "unfair" and "unnecessary". Tigers coach Terry Wallace said Ottens had told him he wanted to stay at Punt Road but left when the Cats came up with a better offer.
10 years ago
March 26, 2010
The State Government has blamed a new pay agreement for a shortage of paramedics in the Geelong region last weekend. But Ambulance Victoria has pinned the blame on bad luck with sick leave and "budget constraints".
5 years ago
March 27, 2015
The sea change blown in by the ABC TV series of the same name has finally reached one of its quaint settings, with the character of St Leonards to transform under a new growth plan. The township was one of the two main locations for the late-1990s series, with locals happily giving up their main street on filming days.