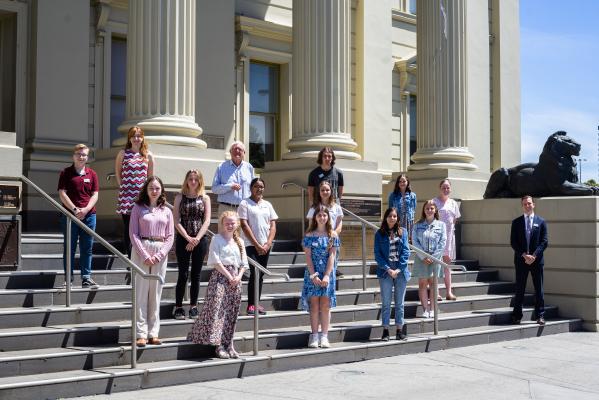 A dozen young teens will be a "voice" for youth on Geelong council for the next two years following their appointment last Thursday.
Acting Geelong mayor Trent Sullivan congratulated the new youth councillors on the steps of City Hall.
"Over the past two years we've seen how important it is to have a youth voice informing council on the issues impacting young people in the region," Cr Sullivan said.
"I have no doubt these young people will do an incredible job representing their peers and I look forward to hearing their insights throughout the year."
Youth advisor groups chose the youth council from more than 100 nominees aged 12 to 17.
The 2021 Bellarine ward youth councillors are Emma Pape, 14, Mackenzie Sinclair, 15 and Maria Glass, 15, while Charlotte Hawkins, 13, Elliot Nicholas, 17, and Minnie Dacres-Mannings, 17, will represent Brownbill.
Eva Maria Gee, 13, Madeline Grace, 16 and Nieve Smart, 15, will provide a youth voice for Kardinia Ward, while Emily Rogers, 12, Ezra James Uebergang, 17 and Lilly Madden, 12 will represent Windermere.
The representatives will act as an official advisory committee to council on issues such as services, health, environment and inclusion.
They will work with councillors in their wards in a mentoring program.
The youth council meets for the first time next Monday to set their key priorities for 2021. The group will provide quarterly reports on its activities beginning in March.
Cr Sullivan thanked the inaugural 2020 youth council for their work putting a spotlight on mental health, sustainability and accessible communities.