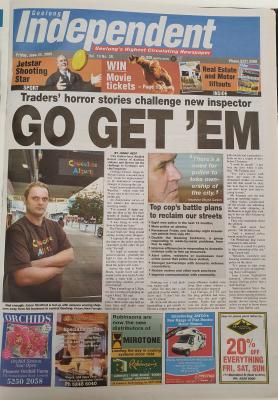 20 years ago
June 23, 2000
Geelong's landmark T&G building is set for a facelift after a local businessman bought it at auction yesterday for $695,000.
Adam Montgomery, a director of Grovedale firm National Catering Equipment, said he bought the run-down building on a whim.
15 years ago
June 24, 2005
City traders have detailed horror stories of daytime violence and thrown out the challenge to Geelong's new chief inspector.
Geelong District Inspector Wayne Carson conceded there was "room for improvement" as he announced sweeping changes to clean up the city.
10 years ago
June 25, 2010
A worker who lost three fingers could cost a Geelong company almost $500,000 in fines, a Geelong court has heard.
Express Promotions pleaded guilty in Geelong Magistrates Court on Wednesday to three charges under the Occupational Health and Safety Act.
5 years ago
June 26, 2015
Geelong's Powerball controversy has descended into a bitter, secretive in-house battle between claimants for a share of former Toll worker Gary Baron's $16.7 million winnings.
Fourteen claimants, transport workers at Geelong Toll, have gone to ground as they consider their options with their third lawyer since launching their campaign.