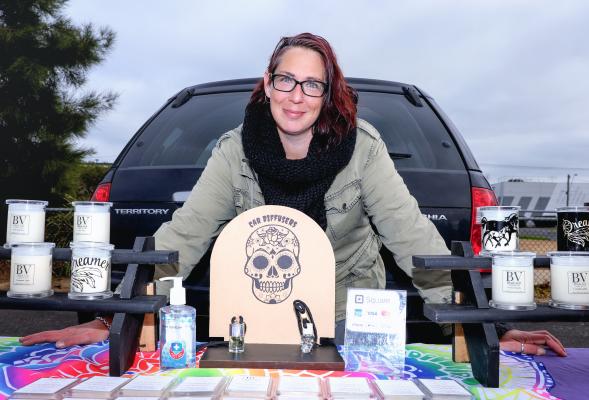 By Luke Voogt
Almost 2300 bargain-hunters and shoppers attended the reopening of Belmont Market on Sunday, with City Hall planning to keep the event running each week.
Highton mother-of-five Rie Williams, who ran one of 101 stalls at last Sunday's market, said the crowd figures surprised her.
"It didn't seem like that many – it was a nice flow throughout the morning," she said this week.
"It was good to get back because it was pretty boring not having a market for a few months.
"It was good seeing everyone, interacting with the customers and having face-to-face contact with people."
The 38-year-old, who sells soy candles, crystals, necklaces and car fragrances, hoped the market could continue, and said customers were diligent in following social-distancing measures on Sunday.
"If people keep following them, I can't see why it can't carry on."
The market operated with a maximum of 130 customers in its indoor area at any one time, with a limit of one customer per four square metres for the entire market.
Belmont Market staff, in high-traffic areas, helped direct patrons to entries and exits and promote social distancing, according to council's community life director Robyn Stevens.
"Stallholders and patrons were pleased to be back and respectful of health and safety measures in place," she said.
City Hall has also reduced the total number of stalls, which can be booked online, and ruled out 'on the day' casual stallholders.
A spokesperson confirmed City Hall planned to continue to run the Belmont Market every Sunday, subject to significant changes in COVID-19 restrictions and case numbers.