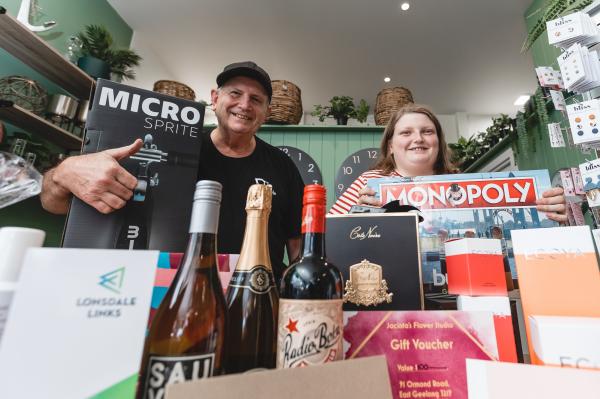 By Luke Voogt
East Geelong businesses have donated about $2500 in prizes to a raffle for Leopold man Billy Bubb, who was paralysed in a motorbike accident.
Mr Bubb sustained a twice-severed spinal cord, lung damage and bruising to the brain in the accident in South Australia on New Year's Eve.
"We've had a great response from local businesses," Zaharah Interiors owner Natalie Muscat said.
"I just wanted to do something for the family, because they're such a beautiful family. We like to get behind our own here in East Geelong."
Mr Bubb's sister Amy thanked the community for the raffle, which follows a GoFundMe campaign that raised more than $45,000 for bills and medical expenses.
"For all these East Geelong businesses and the community to come together to help us, it's just incredible," she said.
"We still have so many kind messages coming in each day and it just helps us get by knowing we have so much support."
Mr Bubb was paralysed from the waist down in the accident but has since regained consciousness. He was recently taken from Royal Adelaide Hospital to the Austin Hospital in Melbourne.
He has yet to regain movement in his right arm and is suffering short-term memory loss from post-traumatic amnesia, but is gradually improving, according to Ms Bubb.
"Every time we tell him about the support he's blown away," she said.
Tickets are available at Grandma's Bottom Drawer, Head First Hair Design, Limeburners, The Last Piece and Zaharah Interiors.
Prizes will be drawn at Ormond Road Fish and Chips, owned by the Bubb family, on April 20.