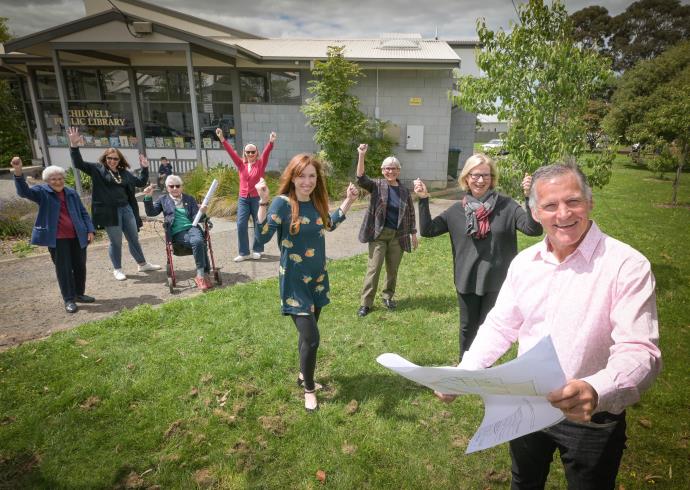 Ash Bolt
The City of Greater Geelong is seeking community feedback on the design principles and concept plan for the redevelopment of the Chilwell Library.
Working with the Geelong Regional Library Corporation and the Chilwell Library Group, the city wants to ensure the facility is meeting community expectations and needs now and into the future.
The redevelopment is focused on making sure Chilwell Library remains a community-focused facility while improving integration with the park and providing new community meeting spaces and toilet facilities.
The city's 2021-22 budget included a $100,000 allocation for the upgrade's design, while it is expected a further $900,000 for construction will be included In the 2022-23 budget.
The city is seeking additional funding sources from all levels of government, including an application which has been submitted for a Living Libraries minor grant.
Greater Geelong mayor Stephanie Asher encouraged the community to have a say on the plans for the highly valued community library.
"We know this upgrade is important for the Newtown community, and council was proud to allocate funding to the redevelopment of the library," she said.
"We have worked closely with the Geelong Regional Library Corporation and the Chilwell Library Group to develop a set of design principles which aim to strengthen the library's connection to Sladen Park as well as expanding and upgrading the facilities.
"We want to hear from community members on whether the design principles reflect the views of the broader community and if the concept plan is on the right track."
The Chilwell Library has served the community since 1958.
Brownbill ward councillor Peter Murrihy said local libraries are at the heart of our communities and welcomed the opportunity for library members, visitors, and residents to comment on the plans for redevelopment.
"The Chilwell Library is a much-loved community asset that facilitates engaging library services and vital social connections," Cr Murrihy said.
"The upgrade will provide meeting spaces that will more than double the library's capacity, enabling opportunities for more diverse programs, activities and events for all age groups.
"Libraries are an integral part of our communities; they help encourage a lifelong love of reading and learning, support people to develop new skills, develop digital literacy, access support and information, and meet people."
The online survey is open until January 31 at yoursay.geelongaustralia.com.au/clr.