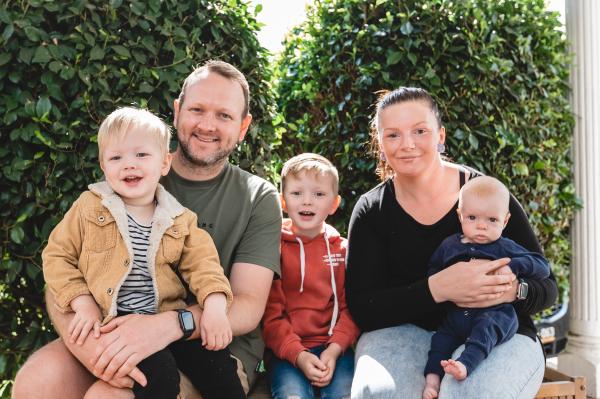 The stress of switching to remote learning and having a baby boy has not stopped Newtown teachers Rachael and Mathew Buck opening their home to vulnerable children.
With Foster Care Week just past, Racheal speaks to Luke Voogt about helping kids feel like "part of the family".
After providing emergency care for more than 100 children over six years, Rachael Buck has countless cherished memories, like looking after a boy on his ninth birthday.
"I was at the gym when he got dropped off with my husband – we discovered it was his birthday that day," the mother-of-three, 33, told the Independent.
"I went past the supermarket and got an ice cream cake. He wrote down at school the next day it was the first birthday cake he had had.
"I've still got the piece of paper with him writing about how great it was to celebrate his birthday – they're the sort of things you remember."
Another time she and husband Mathew, 36, looked after four children whose carer had a fatal car accident, until child protection agencies could find them a new home.
"We had them stay with us while she was in an induced coma," Rachael said.
"She was like a second mum to them. We are still in contact with those kids."
The couple provide short-term and emergency foster care for 24 hours to several months at a time.
"Sometimes it's illness in the family, sometimes kids live with their grandparents, for whatever reason, and they've become unwell," she said.
"Other times, their homes are not safe. There's family violence or drug abuse. It breaks your heart.
"It's never a nice reason that a child has been removed from their home, unfortunately."
The couple began foster caring in their former home town Warrnambool, after both witnessing, as primary school teachers, the affect trauma could have on children.
In her previous role as principal of Noorat Primary School in Victoria's southwest, Rachael was responsible for ensuring vulnerable kids got the extra help they needed.
"Because we both work in education, we just saw the need and thought we could make a difference," she said.
"We have a very big house and a big car, so that helps. Foster caring is like being a teacher, you're offering a stable environment, even if it's only for a short period of time."
About a year ago they moved to Newtown and this April Rachael gave birth to third son Jack after the first wave of COVID-19 began.
"We moved here for my husband to coach in the VFL," she explained.
"I commuted for term one heavily-pregnant. We switched to remote learning a week before I went on maternity leave."
Mathew is still teaching grade 2 remotely with the family currently fostering a "polite", "quiet" and "friendly" 11-year-old girl.
"She's the opposite of our boys, Oscar, (5) and Hugo (2) – they don't stop chatting," Rachael said.
"We went on a scooter ride together as a family the other night.
"The first night we have them we let them choose what takeaway we get for tea. Our kids like that too.
"We treat them like they're part of the family – we go to the football with them and all those sorts of things."
The children they have cared for during COVID-19 have continued to attend school.
"If they're vulnerable, it's good for them to keep that face-to-face connection with their teacher," Rachael explained.
While the couple always put the safety of their own children first, only one child out of more than 100 had proved "too hard" for them.
"In the first few days when the kids arrive, we supervise them closely and any agency you go through has a 24-hour support line," Rachael said.
"Your expectations are different from those you have of your own children.
"We understand they might never have sat at the table to eat dinner or had use their manners – like we expect our kids to do.
"But you can see the change – even caring for them for a short period of time. It's so rewarding. "
Rachael, who fosters through MacKillop Family Services, encouraged Geelong locals to open their homes.
Agencies were flexible to foster families' circumstances and availability, and carers could chose the age of children they cared for, she explained.
"You don't have to do ages zero to 18 like we do, or you might do it one weekend a month. Any support you can offer is just hugely needed and appreciated."
Last week the Buck family looked after three children that arrived at midnight.
"They rang us for the placement at dinner time and by the time they had organised it, it was a three-hour drive," Rachael said.
"Our kids woke up in the morning and there were three extra kids in the house – they were pumped. They think it's great, three extra kids to play with!"
Fostering has also made their children more grateful and compassionate, Rachael has discovered in dinner time conversations.
"Oscar is at the age now where he's asking, 'why can't they go home to their mums?'" she said.
"And we explain to him, sometimes their house is not safe. He can appreciate how lucky he is."
Details: f