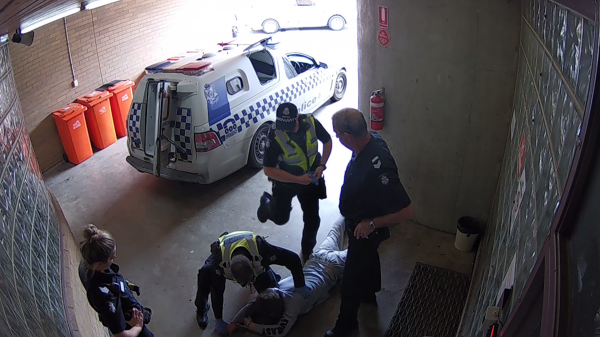 By Luke Voogt
Geelong police Sergeant David Magher will discover his penalty today after being found guilty of twice assaulting a prisoner as other officers pinned him to the ground.
The police officer of 26 years kicked Andrew Birch three times in the Corio Police station sally port during an arrest on September 21, 2018, Geelong Magistrates Court heard.
Police arrested then 36-year-old Mr Birch outside Corio Village Shopping Centre over a suspected armed robbery involving a knife, and took him to Corio Police station.
CCTV footage of the sally port, viewed in court during a six-day hearing, showed Magher spraying Mr Birch with capsicum spray before kicking him to the ribs as he helped other officers bring him to ground.
Magistrate John Lesser on Tuesday noted evidence from 10 police witnesses, all of who said Mr Birch aggressively resisted arrest, and spat and yelled profanities at officers.
He ruled that the first kick was lawful, finding the action could have constituted a "tactical option" available to Magher as police brought Mr Birch to the ground.
While describing the kick as "ill-judged", Mr Lesser said he could not find beyond reasonable doubt that it was an "unreasonable" use of force during the arrest.
But about 30 seconds later Magher delivered the first of two more kicks as police held Mr Birch face-down on the floor with his cuffed hands outstretched.
Magher admitted kicking Mr Birch, but his lawyer Stewart Bayles argued the blows were of "reasonable force in the circumstances" given Mr Birch's aggressive resistance.
But Mr Lesser disagreed, finding Magher guilty of unlawful assault for both kicks.
"They stood out as gratuitous and unnecessary," Mr Lesser said.
"Regrettably, in the heat of the moment, Sergeant Magher crossed the line."
Mr Birch died of a prescription drug overdose a week after the incident following his release from custody.
Following the verdict, Crown prosecutor Sarah Thomas requested time to prepare victim impact statements from Mr Birch's family.
Mr Lesser granted the request, adjourning sentencing to a hearing this afternoon.
Unlawful assault carries a maximum penalty of three months' prison.
The charges followed an investigation by Victoria Police's Professional Standards Command.
Victoria Police cannot comment on the case or potential disciplinary action while an appeal is still possible.