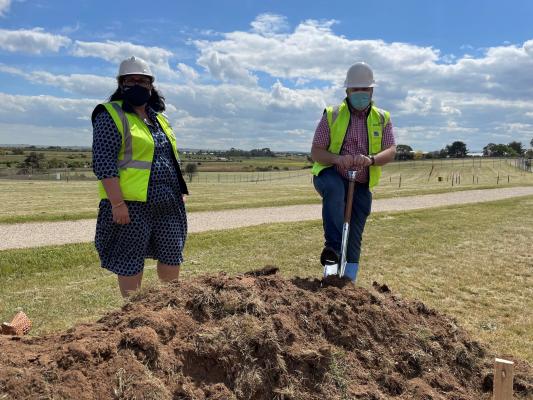 Ash Bolt
Lara residents and their dogs are one step closer to enjoying a new fenced dog park, with works are now underway on the facility at Hovells Creek Reserve.
The Lara facility will be the third fenced dog park for Greater Geelong, joining existing facilities in Corio and Belmont.
Windermere Ward councillor and Lara resident Kylie Grzybek said the park was generating a lot of local interest.
"The Lara community has been looking forward to this dog park being built and there's been quite a bit of excitement since work at the site started," she said.
"Dogs play a special role in many people's lives and this purpose-built facility will support the nearly 3000 registered dogs and their owners in Lara.
"These parks are very popular and a great way to keep dogs and their owners healthy, active and socially connected."
The Lara dog park is set to include a dog training and obstacle area, separate spaces for passive and active dogs, trees, sand pit and garden beds, off-street parking and seating.
A drinking fountain featuring original artwork by Wadawurrung traditional owner and artist Billy-Jay O'Toole will also be installed at the site in partnership with Wadawurrung Traditional Owners Aboriginal Corporation and Barwon Water.
The fountain design recognises the Wadawurrung people as the traditional owners of the land, and includes educational inscriptions to raise awareness of Wadawurrung values.
"My artwork depicts the importance of caring for country to encourage all to look and deeply listen to country to respect, appreciate and take care of Wadawurrung Country," Mr O'Toole said.
The dog park is expected to be completed next month.
Fellow Windermere councillor Anthony Aitken said it was an exciting addition to open space facilities in Lara.
"We know Lara residents are eagerly awaiting a fenced dog park that's a bit closer to home and the wait is almost over," he said.
Additional dog parks in the region are proposed for Aldershot Reserve in St Albans Park and on the Bellarine.
The new facilities are part of the City of Greater Geelong's commitment to providing fenced dog parks throughout the region, following the adoption of the Fenced Dog Parks Siting, Design and Management Guidelines.
To view the designs for the project visit geelong.link/laradogpark