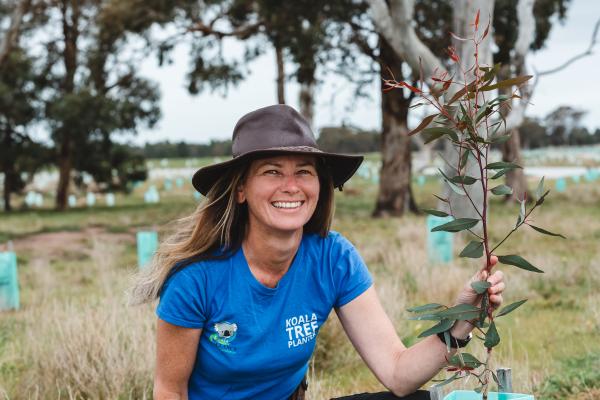 By Luke Voogt
An international cryptocurrency giant's $400,000 donation has driven the planting of 25,000 trees for koalas around Geelong's outskirts, along with another 20,000 in East Gippsland.
Koala Clancy Foundation passed the 25,000 mark last Saturday following the combined efforts of staff and volunteers throughout the year, according to foundation president Janine Duffy.
The foundation had initially set a target of 20,000 for 2021.
"We were thinking with COVID we wouldn't make it but we achieved 20,000 a few weeks early, so we thought, 'why not go for 25,000?'" Ms Duffy said.
The 2019-20 bushfires killed more than 60,000 koalas, according to a World Wildlife Federation commissioned report.
"A lot of people wanted to plant trees in the burnt areas but [they will] regenerate," Ms Duffy said.
"You can't just rush in there and plant trees. But what we can do is strengthen the koala habitats that weren't burnt.
"Protecting our Geelong koalas indirectly helps the koalas in the burnt area by increasing the overall breeding population."
The charity arm of international cryptocurrency exchange Binance raised $1 million to plant 100,000 trees in Australia and earlier this year donated $400,000 to Koala Clancy Foundation.
"They did some fundraising around the bushfires last year and they wanted to spend it," Ms Duffy said.
"And they've got more, so fingers crossed, we might be able to do it again. If we can do 25,000 in a COVID year, we can easily do 30,000 in a normal year, maybe even more."
Geelong council and international wildlife organisations have also supported the foundation's tree-planting in locations including the You Yangs, Little River, Moorabool, and Stonehaven.
"We'll take it as far as it can go," Ms Duffy said.