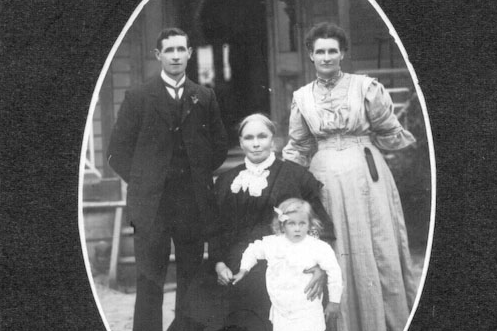 Next Wednesday marks 130 years since hundreds of Geelong suffragettes joined 33,000 across Victoria in demanding that Australian women have the right to vote.
Geelong historian Doctor Peter Mansfield looks back at some of the local women involved in the campaign for equal rights.
By September 1891, more than 33,000 Victorian women, including up to 2000 from Geelong, had signed a petition demanding the right to vote.
The signatures came in response to Victorian Premier and Geelong MP James Munro's promise earlier that year to endorse any petition that demonstrated women supported the cause.
The Women's Christian Temperance Union and the Women's Suffrage Society took up the challenge.
In a few months they collected 33,000 signatures from women throughout the colony, including the premier's wife Jane Munro.
The 260-metre-long Women's Suffrage Petition, referred to as the 'monster petition' due to its size, required several attendants to carry it into parliament when it was tabled on September 29, 1891 – 130 years ago next Wednesday.
Premier Munro was a "colourful" character and might have hoped to win the ensuing debate by the force of his personality alone.
But many in the all-male parliament opposed his stance, thinking that giving women the vote would cause widespread "domestic unrest".
"If wives would be differing from their husbands politically, this would create heart burnings in families, where happiness previously abode," one politician stated.
Another politician stated, "man is the sturdy oak and woman is the clinging vine".
These chauvinistic sentiments and backroom politicking caused parliament, and later the local press, to more or less bury the petition.
A local paper published just one paragraph stating the women were "very disappointed that Premier Munro had withdrawn the suffrage provision from the Amended Constitution Bill then before the parliament".
Finally, 17 years later in 1908, Victorian women gained the right to vote when the last of 19 private member's bills for women's suffrage during that time passed on November 18.
The 1891 petition, now housed in the Public Record Office Victoria, remains as a testament to the Geelong women who ultimately laid the groundwork for their descendants to win the right to vote.
Leopold mother-of-13 Ellen Dean signed the petition along with at least four daughters: Mary Jane, Louise, Emma and Sarah.
She and husband Daniel arrived at Point Henry on July 24, 1854, aboard the Maria Hay after migrating from England with eldest daughter Mary Ann, then an infant.
Ironically, one of her daughters, Sarah, signed under the name of her husband as 'Mrs John Humphries', as did fellow Geelong signatory Barbara Gardiner.
'Mrs William Gardiner' died in 1894, three years after signing the petition, with death notices and burial records revealling her true name.
Barbara was just one of many signatories who died before their dream of equal rights became a reality.
Alice Farrow, the youngest of 13 children, was 21 when she signed the petition, but drowned in 1903.
A staunch Methodist, her friends wrote that she had been "called home" following her tragic death.
Anne Cargeeg died two months after signing the petition. She was a 34-year-old single woman who lived at home with her parents in Pakington Street, Chilwell.
Elizabeth Haggar lived on the Bellarine Peninsula. When she died in 1893, her obituary said she was "an old lady resident of the district" at 63-years-old.
Jessie Parsons died in January 1892 – five months after signing the petition. She was 53 and a mother-of-six. She was interred at Queenscliff Cemetery.
Georgina Payne was 29 when she died in 1894 after giving birth to her sixth child.
Mary Ann Thornycroft was 66 when she signed the petition. She died in July 1898 and was interred in the 'unknown' section of the Portarlington Cemetery.
But many others lived on to witness the change they campaigned so determinedly for, like Rebecca Adams, who died in 1916 after "years of heart troubles."
Mary Elizabeth Pawsey was 40 when she and her three daughters signed the petition. Mary was born in Norfolk, England, in 1851, and died in Geelong in 1941 at the age of 90.
Her husband owned a drapery business on Moorabool Street and her family lived on Virginia Street, Newtown, and were members of the Congregational Church.
Sarah Parkinson and Mary Proctor were among the oldest signatories, both at 68-years-old.
Conversely, Elizabeth Grace Jacka was only 18 when she signed, and Alice Galbraith was 21.
Ms Jacka's parents lived at Mount Duneed, but her address was Virginia Street, Newtown, which suggests she was a housemaid.
Years later she married "a good catch and popular sportsman" Fred Bedggood. She died in 1941 and was interred alongside her parents in Highton Cemetery and her daughter Dorothy Grace, who died in infancy.
Ms Galbraith appears to have been one of the longest surviving petitioners. She was born in 1871 and died at her home in Weller Street, Geelong West, in 1956. She was interred with her mother in the Western Cemetery.