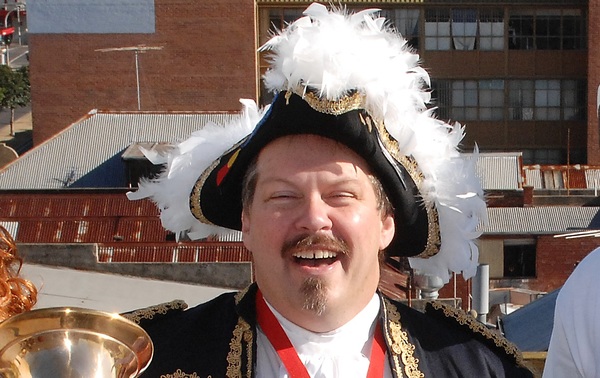 By Luke Voogt
Soccer clubs and council have remembered "beloved" Geelong town crier of a quarter-century Andrew Shears for his compassion and enthusiasm following his death on Saturday.
Geelong soccer identity Tonci Prusac paid tribute to the father-of-six online and council flew its flags at half-mast on Monday.
"We are all devastated, shocked and saddened by the loss of one of the nicest and most compassionate blokes one can ever come across," he said.
Mr Shears was Geelong's town crier for more than 25 years and co-hosted a Geelong program on Football Nation Radio.
He served Geelong's soccer community "deeply, passionately and enthusiastically" by volunteering at several clubs, Mr Prusac said.
"Football was Andrew's life."
Mr Shears was a long-serving volunteer at Bell Park Soccer Club and registrar at FC Leopold, where his son plays for the senior men's team.
More recently he was secretary of Drysdale Soccer Club where his daughter Isabelle plays for the senior women's team.
Mr Shears lost consciousness from bleeding to the brain after complaining of a headache during dialysis at University Hospital Geelong on Friday, Mr Prusac reported.
An ambulance helicopter flew him to The Alfred hospital, where he fell into a coma "never to wake again", Mr Prusac said.
"He was surrounded by his devastated family at the time of passing."
With the "heaviest of hearts and deepest of sorrows" Mr Prusac extended his condolences to Mr Shears' wife Joanne, the Shears family and "extended family" at Drysdale Soccer Club.
Deputy mayor Peter Murrihy also extended his deepest sympathies on behalf of City of Greater Geelong.
"Andrew rang out his last stint as town crier on Australia Day 2018, having led the Gala Day parade the previous November for Barwon Health Foundation," he said.
"Up until then, he had only missed two of the previous 26 Gala Day events."
Mr Shears began the role aged 25 while working as a spruiker for a Moorabool St clearance store in 1992.
He won "a very loud and colourful cry off" in central Geelong against five other finalists, Mr Murrihy said.
After winning he became Victorian champion several times, Australian champion once and climbed to number eight in the world town crier rankings.
"Over his career, Andrew and his wife Joanne had six children – and they all did 'crying' with their dad at some stage," Mr Murrihy said.
"(I) sincerely thank him for his unique commitment in representing Geelong on the state, national and international stages."