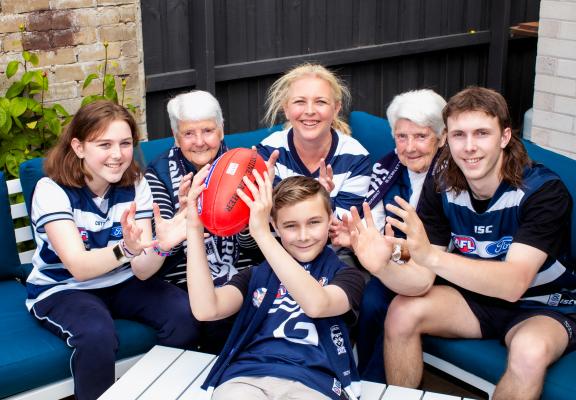 By Luke Voogt and Justin Flynn
The 2020 AFL Grand Final between Geelong and Richmond is uniting and dividing two sets of local twins separated by 83 years.
Identical 87-year-old twins and life-long Geelong fans Doreen Lynch and Janet Johnson were ecstatic the Cats had made the big game.
"The whole family's excited!" Doreen said.
The Geelong-born sisters watched Graham 'Polly' Farmer live with their dad in the '50s and followed the results while working in Papua New Guinea as nurses in the '60s.
As Cats members of more than 30 years, they have watched both Gary Ablett Senior and Junior take the field.
They hope their beloved Cats will bring home the 2020 AFL Premiership Cup and give 'The Little Master' a final game worthy of his illustrious career.
"That would be the icing on the cake wouldn't it," Doreen said.
They were devastated when Geelong lost to Richmond in last year's preliminary final – minus a then-suspended Tom Hawkins.
Doreen got a fright when she heard Hawkins was isolating due to a sore throat this week but luckily the Coleman Medallist tested negative for COVID-19.
While she had missed her other "family" of fellow football fans during the pandemic, she admired how the Cats had handled a "trying year" away from home for so long.
"There's been no troubles and they've just got on with it," she said.
She will be glued to the television on Saturday night alongside daughter Kate and grandchildren Hugh, Bridget and Seamus, who live with her in Herne Hill.
She was "quietly confident" the Cats could win if they started well, won the clearances, kicked accurately and continued their superb team efforts from the last two finals.
"The way we've been playing, we're a chance."
Over in Ocean Grove, four-year-old identical twins Bohdi and Owen d'Offay are thick as thieves normally, but friends will become enemies for two hours on Saturday night.
Bodhi supports mum Brigid's team Richmond, while Owen followed his grandparents into the blue and white.
"They'll definitely be best mates again afterwards," Brigid said.
"But I'm expecting to hear a lot of 'my team won and yours didn't!'"
Cats fans prepare for the Grand Final, page 17.
Grand Final preview, page 27.