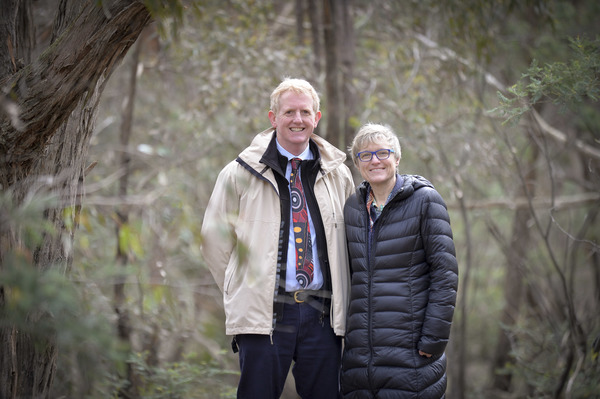 by Luke Voogt
Barwon Water has sold 54 hectares of public land at Ballan for $543,000 to a Ballarat Aboriginal group after previously earmarking the site for tourism.
Wathaurung Aboriginal Corporation general manager Paul Davis detailed the price, including fees and taxes, for the land, almost 30 times the area of GMHBA Stadium.
The corporation bought the land, which includes a house, mineral spring and pine plantation, in a one-off payment, Mr Davis said.
"Most of our money is our own derived income. If we'd been a government department we wouldn't have paid anything for it.
"We are good partners with Barwon Water and it was a very good way to strengthen our ongoing relationship."
Wathaurung Aboriginal Corporation, trading as Wadawurrung, would bury ancestral remains repatriated from Museum of Victoria on the land, Mr Davis said.
"It allows the Wadawurrung people to put those old people back on country."
The corporation was "currently looking at other uses" for the land, Mr Davis said.
In 2016 Barwon Water commissioned a Tourism Potential report and a planning report for the land.
The tourism report identified uses including a mineral spa and wellbeing retreat, similar to Hepburn Springs, or an adventure camp.
Located beside the 7455-megalitre Bostock Reservoir about 30km east of Ballarat, the land was no longer required for operational purposes, Barwon Water said.
The land "lay in the heart of Wadawurrung Country", according to Barwon Water. But in the planning report archaeologist Doctor Tim Stone found no Aboriginal sites, traces or values on the land.
The sale supported Barwon Water's Reconciliation Action Plan, managing director Tracey Slatter said.
Barwon Water and Wadawurrung recently signed a partnership "on key projects" over the next three years supporting creating "meaningful opportunities" for Aboriginal people.
"Our staff value learning from our traditional owners about water and land management practice, that are just as relevant today as they have been for tens of thousands of years," Ms Slatter said.
Barwon Water said the sale supported its Strategy 2030 of moving "from a utility service provider to an enabler of regional prosperity".
Recently the water authority has begun developing estates at former water basins at Torquay and Highton citing a "new entrepreneurial approach".
Both surplus property sales and revenue from its developments would "help keep customers' water bills low", according to Barwon Water.
A Barwon Water spokesperson said the land at Ballan sold "at market rates as set by the Valuer-General Victoria".