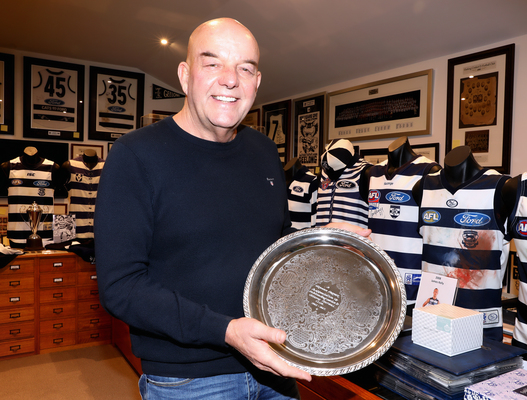 by Luke Voogt
A long-time friend of Graham 'Polly' Farmer has remembered the football legend as "hero to his family" ahead of a state funeral in Perth on Monday.
Geelong Cats historian Bob Gartland described Farmer as a gentle, polite and happy man.
"In the last few years I've been flying over to Perth to visit Polly and I've loved him my whole life," said Mr Gartland, who will attend the service.
The football legend died in Perth last Wednesday aged 84 after a 24-year battle with Alzheimer's disease.
"He's probably the best player ever to play the game, in my opinion," Mr Gartland said.
Farmer played 101 games for the Cats, won the 1963 premiership and captained the club for three years. Many regarded him as a trailblazer for indigenous players.
"He was a hero to many people across many levels," Mr Gartland said.
"But most importantly he was a hero to his family – that was always the most important thing to him. He loved his family."
Mr Garland remembered meeting childhood hero Farmer for the first time as a nine-year-old during a junior footy pie night.
"He shook hands with me and his middle finger reached up to my elbow. I couldn't speak, I was overawed.
"There was a calmness about Polly that made you feel okay being around him, given he was such an extraordinary person."
The Farmer family has asked for donations to the Graham 'Polly' Farmer Foundation in lieu of flowers or tokens of remembrance.