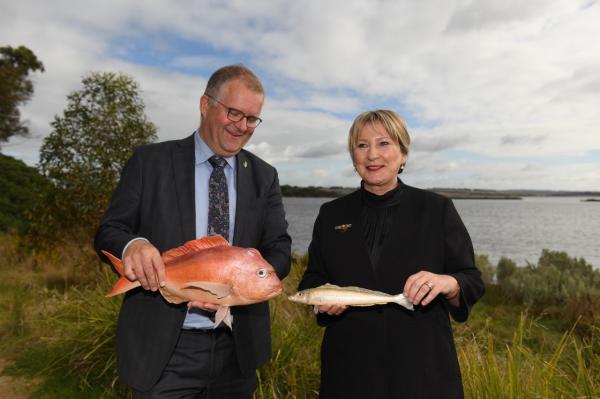 By Luke Voogt
A $22.1 million partnership with state government, council and Barwon Water will fund three new Deakin marine projects creating 48 jobs, the University has announced.
The partnership will fund a new $9.8 million AquAFI Hub innovation centre aimed at expanding fish and seafood farming, run in part by artificial intelligence technology.
The AquAFI Hub will focus on sustainable fish production, novel feed and aquaculture technology development, and industry training, according to Deakin.
The work will expand into "advanced feed extrusion technology" and the development of "sustainable ingredients and raw materials for next-generation circular bio-economy approaches for the seafood sector", the university stated.
The partnership will also fund a $4.5 million upgrade of facilities at Deakin's Queenscliff Marine Science Centre and a $7.8 million water-management upgrade at its Waurn Ponds campus.
Deakin University vice-chancellor Iain Martin said the projects reflected Deakin's focus on sustainability and commitment to preserve and enhance natural environments.
"The AquAFI and the Queenscliff Marine Science Centre projects enable Deakin to undertake research and education that will deliver outcomes that are both locally relevant and globally significant."
Professor Iain Martin said the integrated water plan would explore alternate water sources for the Barwon region "to ease the strain on existing supplies", in consultation with traditional owners.
Deakin funded $13.3 million in total for the projects, with state government contributing $6 million through its higher education investment fund.
Barwon Water contributed $1 million to the water-management plan while Geelong council contributed $1 million to the Queenscliff Marine Science Centre upgrade, Deakin said in a statement.
Melbourne-based Root Partnerships will oversee construction, which will begin this year and finish mid-2022.
Deakin University and state government expect the projects to create 48 jobs and be in operation by the end of 2022.
"These exciting projects will push the boundaries of water science research but also provide great learning and job opportunities for Victorians," Higher Education Minister Gayle Tierney said.
"This investment will put Geelong at the forefront of water and aquaculture research – and ensure a sustainable future for Victoria and the nation," South Barwon MP Darren Cheeseman added.