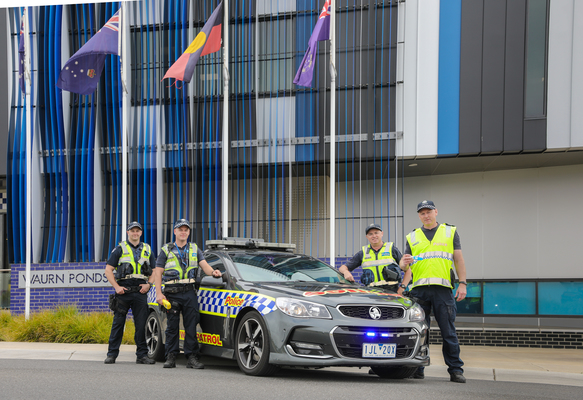 By Luke Voogt
Police will bolster their numbers in Geelong and the Surf Coast over an eventful Australia Day long weekend to crack down on drink-driving and speeding.
"You'll definitely see increased police presences around Geelong and the Surf Coast," warned Waurn Ponds Highway Patrol Sergeant Peter Radford.
"We're going to have a strong focus on impaired driving, speed and people using mobile fines."
Additional marked and unmarked cars would monitor local roads for Operation Amity, while police would set up extra breath and drug-testing sites, Sgt Radford said.
His warning followed 12 deaths on Victorian roads so far in 2019.
Last year, three people died and 55 sustained injuries in crashes over the Australia Day long weekend.
"If we have one serious injury or one fatal crash, that's one too many," Sgt Radford said.
"But we need help from the public, we can't do it alone."
Sgt Radford urged motorists to drive to conditions and plan alternative transport if they intended to drink alcohol.
"We see an influx of people coming down to Geelong and the Surf Coast simply because it's a long weekend," he said.
The Cadel Evans Great Ocean Road Race would create extra traffic, including international tourists driving to the event, Sgt Radford said.
"We ask people to be patient. It's a world class riding event and it's going to be broadcast around the world."
TAC road safety director Samantha Cockfield urged drivers to plan ahead and make safe choices over the long weekend.
With school holidays wrapping up, the weekend was one of the busiest of the year on Victorian roads, she said.
"We expect roads to be busy across the state with people taking longer trips and attending social events, and with increased traffic comes a higher-risk of something unexpected happening.
"Our message is to avoid fatigued driving, slow down, and if your weekend involves drinking alcohol, leave the keys behind and plan a safe way home."
Vicroads expected 80,000-plus spectators to watch the Cadel Evans Great Ocean Road Race around Geelong and the Surf Coast from Friday to Sunday.
The race will cause road closures through parts of Geelong, Barwon Heads, Torquay, Anglesea, Barrabool and Highton.
For a map and list of planned closures visit www.cadelevansgreatoceanroadrace.com.au/about/traffic-alterations/.