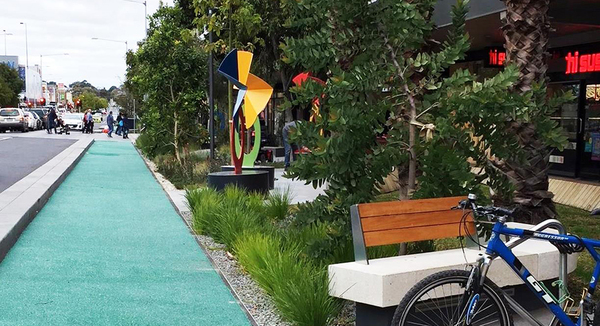 By Luke Voogt
Geelong's controversial Green Spine is set to expand with state authorities awarding contracts for the design of the final stage.
WSP in Australia and GHD Group this month began planning the final stage, the Department of Environment, Land, Water and Planning (DELWP) confirmed today.
The final stage involves extending greenery and bike lanes along Malop Street to Geelong Botanic Gardens.
Work is currently under way on the Green Spine on the north side of Malop Street between Gheringhap and Moorabool streets, including the creation of a triangle park in front of the WorkSafe and NDIS buildings.
Drainage, irrigation and kerb works on the triangular park are complete, while paving and turf installation is under way.
Remaining works in this section, including further landscaping, paving, drainage and installation of furniture, are due for completion in December.
Work on the south side of this section will commence following the finalisation of future bus routes in central Geelong, with the design needing to accommodate buses turning into and out of Malop Street, according to DELWP.
DELWP has yet to provide dates for this.
State government seized control of the project in March 2020, after council decided by one vote to spend $2 million to demolish separated bike lanes on Malop Street and reintroduce turning lanes.
At that point $8 million had been spent on the Green Spine.
"As intended, the Green Spine is already encouraging motorists to take alternative routes through the city, enabling Malop Street to be a safer environment for bicycle and foot traffic, resulting in higher levels of physical activity and community interaction," DELWP spokesperson said.