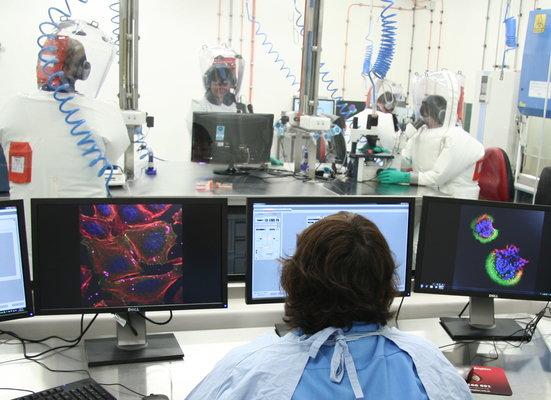 By Luke Voogt
A COVID-19 vaccine candidate that Geelong scientists helped progress to human trials has shown promising results in a preliminary report.
The University of Oxford on Monday published the results of phase 1 and 2 human trials for vaccine candidate ChAdOx1 nCoV-19 in scientific journal The Lancet.
CSIRO's health and biosecurity director Rob Grenfell described the preliminary findings as "encouraging".
"The report shows the vaccine candidate generated an immune response, making antibodies and stimulating T-cells to fight COVID-19," Dr Grenfell said.
"While these are hopeful results, there's still a long way to go before we have a viable vaccine at our fingertips.
"We don't know exactly know what protects us against a coronavirus infection, as there is still so much we don't know, so our research continues.
"While the race for a vaccine against this virus is moving quicker than we've ever seen before, and the global need for a vaccine is evident, we can never forget safety is still of the highest importance."
Large-scale phase 3 clinical trials would be vital in determining the vaccine's performance and safety, Dr Grenfell explained.
"These larger studies are conducted in broader populations in current disease outbreak sites, in this case South Africa, Brazil and the UK," he said.
"It won't be clear if the vaccine candidate works, and is safe for the broader population, until these large-scale clinical trials are completed."
CSIRO tested ChAdOx1 nCoV-19 in a cohort of ferrets at the Australian Centre for Disease Preparedness in Newcomb.
Centre director Trevor Drew said scientists tested different methods of administering the vaccine and doses in pre-clinical testing beginning in March.
After several weeks they tested the vaccine's efficacy by introducing the ferrets to SARS-CoV-2, the coronavirus that causes COVID-19.
"Early data from these trials has been shared with the University of Oxford," Dr Drew said.
The results from this study are currently undergoing internal and external review, and a compliance audit.
"The results will be published following this review," Dr Drew said.
Additional lines of research in pre-clinical testing and a longer period of study compared to phase 1 and 2 meant more analysis was required before the data could be released publicly, he said.